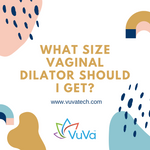 | Tara Langdale
What Size Vaginal Dilator Should I Get?
You have undoubtedly found your way to this article because you have heard about the benefits of vaginal dilators. However, if you haven't used a vaginal dilator before, you may be a little confused about how to get started with them. Knowing which is the right size vaginal dilator for you is not always easy. In fact, one of the most common questions we are asked at Vuvatech is, "What size vaginal dilator should I get?" and although there is no exact answer to that question, our wealth of experience means we can help you to decide on which dilators are right for you.
Choosing the best vaginal dilator may entail doing a little mental math on details such as your shape and size, comfort levels and personal goals. Every woman's body is different, and there are so many reasons for needing a vaginal dilator. It's certainly not a one-size-fits-all product, and you may even be wondering if it's the right kind of product for you at all.
This article was written to help you understand what dilators are for, how they work, and of course which size of dilators will fit you best. We can also provide the best vaginal dilators on the market, so that you can be sure you are getting a premium quality product that will solve your problems and boost your confidence.  
How to pick your Vaginal Dilator sizes:   
When shopping for dilators, it might be hard to know what size vaginal dilators you need. If you ask your physician or pelvic floor physical therapist, they should be able to tell you what size you need to start your pelvic floor therapy with. Some people do not need the entire set and some people do.
When it comes to our size vaginal dilators, there are seven to choose from. We have one of the smallest vaginal dilators on the market and one of the largest. 
The smallest dilator, the Size 1, is comparable to a pencil and the Size 2 is comparable to a women's pinky finger. If you can get a larger tampon applicator in with ease, you may want to start with a Size 3 or 4 dilator if your muscles are very tight, or you have a lot of atrophy pain.
If you are sexually active, you might not need the smaller dilators and starting with the Size 4 or 5 and moving up would be best for your home therapy plan. You can also purchase the size dilator that is comparable in circumference to your partner if you are sexually active.
As dilator therapy can be uncomfortable, you do not want to be in extreme pain when you are dilating. If you are, then you need to move down one dilator size. On a pain scale of 1-10, you do not want to go over a 3-4 pain level when dilating. Now, when you first put the dilator in, it can be very painful, but that pain should subside after a few minutes. You don't want to be in extreme pain the entire time during your dilator therapy. 
Here are the seven sizes of VuVa Dilators:
VuVa
™ 

Magnetic Vaginal Dilator Tips: 

In order for you to tell the true size, you might want to use a ruler and draw the sizes you think you need on a piece of paper. This can help you visualize the correct sizes of the dilators.

Use a VuVa™ Magnetic Vaginal Dilator comparable to your partners size 20 minutes before intercourse to relax tight muscles and bring blood flow to the area. You have now created a relaxed environment for penetration. If you use the dilator that is around your partners size 20 minutes before intercourse, it will relax your muscles and help create natural lubrication before you replace the dilator with your partner. It will also help with the fear of penetration that most women have due to the pain of insertion because of their pelvic pain condition. 

For a full list of instructions on how to use dilators, visit our Directions page.

 
Choosing the right size of vaginal dilator with your Pelvic Floor Physical Therapits
One of the quickest and easiest routes to deciding which is the correct size of vaginal dilator is to check with a pelvic floor physical therapist or women's health practitioner. They will be able to tell you which sizes are right for your specific issues. However, if you don't have or don't want to see a specialist, you can still figure out and decide out which size dilators to use.
We know that looking at a screen can't give you a truly accurate idea of a dilator size. So here's a top tip to help you choose the right dilator size: using our size chart above and a ruler, you can draw the sizes onto paper, which will help you to visualize the dilator sizes more accurately. If you are really unsure which dilators will fit you best, a combo set will give you a few options; this way you can 'err on the side of caution' and take your time to achieve your goal.
A word of warning: it is normal for dilators to feel a little uncomfortable when they are the correct size, but you should not be in severe pain when using them – that's not normal and could lead to soreness or further problems. As a point of reference, pain should not be over a 4 out of 10, so if you experience a lot of pain when using a dilator – anything over a level 4 - try moving down a size until you have expanded your capacity enough to tolerate a bigger one.
Having said that, depending on your reason for using a dilator, you may experience pain when inserting anything at all. In this case you may want to wait a few minutes to see if the pain level drops. If so, you should be fine with the size you picked. Sexually active women generally wish to work their way up to a size comparable to their partner's penis. Using one around his size for approximately 20 minutes prior to sex should make intercourse much more comfortable and satisfying.
Which are the best types of dilators?
Vaginal dilators for women's health are made from different materials, designed to suit different issues. Most issues include some kind of pelvic floor dysfunction, for which dilators are available in silicone, magnetic and plastic.
We recommend VuVa magnetic dilators first and foremost, as the magnets inside them work very well to improve blood flow to the vaginal tissues. This soothes nerve endings and helps the body to heal by balancing its electromagnetic energy. Our clinical trial proved the effectiveness of magnetic dilator therapy, and our happy customers agree!
Are vaginal dilators helpful?
In so many instances, yes: vaginal dilators are extremely helpful! Women use them for many reasons, from conditioning the vagina to receive a penis or any other kind of penetration, to overcoming pain, fear and discomfort around penetration. Pain and fear tend to work together to create a cycle, unfortunately. This cycle can lead to negative anticipation and varying degrees of involuntary constriction.
Once the causes of vaginal pain have been determined, dilators are often the next step recommended by physicians. That's because they can erase the muscle memory that leads to this constriction, desensitizing your central nervous system and muscles, and conditioning you to develop a more positive anticipation for penetration. 
Vaginal dilators are helpful for stretching out your tissues and muscles over time, thus improving capacity and elasticity, and reducing tightness caused by scarring or hormonal changes. In case you weren't aware of it, we are happy to tell you that vaginal scarring and shrinking are reversible in almost all instances.
Which pelvic pain conditions do dilators help?
Women who suffer from any of the conditions below can benefit from using vaginal dilators. Some of the conditions include:
Vulvodynia
Vulvar vestibulitis
Vaginal atrophy
Menopause
Pudendal Neuralgia
Vaginismus
Dyspareunia
Vaginal agenesis
Reassignment surgery
Thanks for reading our article, and we hope we have helped you to decide upon the best size of vaginal dilator for you. However, if you are still unsure which size dilator is right for you, or whether you can use them at all, you could ask a trained medical professional.
It might also help to take a look through our blog, which contains countless articles on the sexual health conditions dilators can help. You can use the search bar (on the top right of the site) to explore our library of articles and information. Oh, and we are always happy to hear from you if you wish drop us a line for some advice on our products and what they are used for, so feel free to get in touch!
Resources/Links
https://www.vuvatech.com/pages/how-do-i-know-what-size-vaginal-dilator-i-need
https://www.vuvatech.com/blogs/care/do-silicone-dilators-work-yes-and-here-are-instructions-on-how-to-use-silicone-vaginal-dilators
https://www.vuvatech.com/blogs/care/vaginal-dilators-how-to-use-dilation-products
https://www.vuvatech.com/pages/vuva-recommended-pelvic-pain-specialists-doctors
https://www.ncbi.nlm.nih.gov/pmc/articles/PMC4475318/
Do you need to order vaginal dilators so you can start your pelvic floor therapy process? Made in the USA. Visit www.vuvatech.com 
VuVa Helpful Links:
How do Neodymium Vaginal Dilators work? 
7 Reasons for a Tight Vagina and How to Loosen 
How to Relax Vaginal Muscles, Vaginismus & Sex 
Vaginal Stretching - Keeping in Shape with Dilators 
Do Dilators Really Work? Yes, and They can Improve Your Sex Life!
Shop for VuVa Vaginal Dilators
Tara Langdale Schmidt is the inventor of the VuVa Dilator Company. She has pelvic floor dysfunction herself and wanted to create a dilator set that is made in America that women can trust. VuVatech has been in business since 2014 and has helped over 50,000 women all over the globe. She patented the Neodymium Vaginal Dilator, that is clinically proven to help with blood flow and nerve pain.
Podcast Episode 22: Tara Langdale-Schmidt
What's on Your Vagenda?
Click here