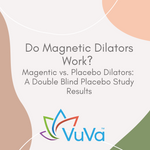 | Tara Langdale
Do Magnetic Dilators Work? Magentic vs. Placebo Dilators: A Double Blind Placebo Study Results
Pelvic pain and other related conditions can affect one's quality of life. As much as 1 in 4 women suffer from vulvodynia, a condition characterized by vulvar pain lasting for 3 months or longer. Similarly, vaginismus is another condition that affects a woman's sex life, making it difficult for them to have intercourse. To help women overcome these conditions, VuVa Dilator Company designed magnetic vaginal dilators. In this blog post, we discuss the clinical trial results for magnetic vaginal dilators from VuVa Dilator Company and why they are a game-changer.


1. What are Magnetic Vaginal Dilators?

Magnetic vaginal dilators work on the principle of magnetic therapy and are an innovative approach to supporting pelvic health. The VuVa Dilator Company includes Neodymium Magnetic therapy in their dilators. The magnetic field stimulates the nerves, improves muscle function, increases blood flow, and provides relaxation, making the vaginal treatment more effective.


2. Clinical Trial Results
VuVa Clinical Trial Chief Investigator - Dr. Michael Swor
Dr. G. Michael Swor is an obstetrician-gynecologist in Sarasota, Florida and is affiliated with multiple hospitals in the area, including Doctors Hospital of Sarasota and Sarasota Memorial Health Care System. He received his medical degree from University of South Florida College of Medicine and has been in practice for 34 years.
VuVa Vaginal Dilators vs. Placebo Dilators: A Double Blind Placebo Study Results 
Eighty percent (80%) of study subjects reported a decrease in overall pain after using the VuVa™ magnetic vaginal dilators.
Subjects using the VuVa™ magnetic vaginal dilators experienced an average thirty percent (30%) decrease in pain levels on a standardized tampon test, which is a way to clinically measure pain associated with sexual intercourse.
The cotton swab test evaluates eleven (11) different locations of the vulvar vestibule for pain. Eighty percent (80%) of the study subjects reported a decrease in the total number of locations after using the VuVa™ magnetic vaginal dilators.
Subjects using the VuVa™ magnetic vaginal dilators experienced an average twenty eight percent (28%) decrease in pain levels using a standardized cotton swab test, which is a non-invasive measure of vaginal pain.
Overall anxiety associated with vaginal penetration is significantly decreased in all subjects.
Subjects report feeling more confident about their sexual health in the future after completing the study.
Subjects report that VuVa dilator therapy is not a painful treatment.


3. Benefits of Magnetic Vaginal Dilators

Using magnetic vaginal dilators has many benefits. Some of the benefits include increased blood flow, reduced tension and discomfort, enhanced nerve function and improved muscle strength and flexibility. Magnetic dilators are also easy to use and increases the success rate of pelvic therapy because of their unique design and the use of magnetic therapy. They also provide a more comfortable therapy experience and can make intercourse more enjoyable, leading to a better quality of life.

4. How to Use VuVa Magnetic Vaginal Dilators

Using VuVa magnetic vaginal dilators is simple. They are easy to insert, and the magnetic therapy has no side effects. The dilators need to be used daily for about 5-20 minutes initially, gradually working up to 20-30 minutes as the vagina accommodates the dilator. The best time to use the VuVa dilators is when you are relaxed and focused on calming breathing techniques.

5. Are VuVa Magnetic Vaginal Dilators Safe?

VuVa magnetic vaginal dilators are safe to use and have no known side effects. Magnetic therapy has been safely used for over 100 years in a variety of medical applications. However, patients with pacemakers and other implanted devices should not use magnetic dilators.


The clinical trial results for VuVa Magnetic Vaginal Dilators are promising and show that they are a viable approach to improving pelvic health. Using magnetic therapy to improve muscle function, increase blood flow, and reduce tension and discomfort, magnetic dilators are transforming the world of pelvic therapy. Pelvic pain should not be a barrier to enjoying sex or living your life to the fullest. Give VuVa dilators a try and take control of your pelvic health.
VuVa Dilator Company Helpful Links:
How do Neodymium Vaginal Dilators work? 
7 Reasons for a Tight Vagina and How to Loosen 
How to Relax Vaginal Muscles, Vaginismus & Sex 
Vaginal Stretching - Keeping in Shape with Dilators 
Do Dilators Really Work? Yes, and They can Improve Your Sex Life!