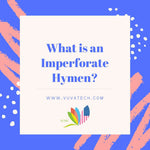 | Tara Langdale
What is an Imperforate Hymen? How do you treat it?
An imperforate hymen is the name for the condition in which a thin fleshy membrane (your hymen) covers the vaginal opening fully, rather than just partially. The hymen is present until sporting activities, sexual intercourse or tampons cause it to stretch, tear or wear away. When the membrane is as it should be, it will have one or more openings within it to let menstrual blood and vaginal secretions pass through, and it will not stretch across the entire vaginal opening.
An imperforate hymen will not have openings in it, so it seals the vaginal opening. Obviously this becomes an obstacle to the body's processes and must therefore be treated. Imperforate hymen is classed as a congenital disorder. In other words, it is something you are born with. Imperforate hymens are not particularly common and the causes are unknown, but fortunately it is easy enough to correct the problem.
What are the signs of imperforate hymen?
Many girls with imperforate hymen are unaware of this until they reach puberty and their menstrual cycle starts. Doctors can diagnose it soon after a female baby is born, but it is not always noticed at this time.
A girl may find that she has an imperforate hymen if her first menstrual period does not appear to occur, because the blood flow is unable to exit the vaginal opening. She may get a sensation of fullness in her lower abdomen or the pelvic area since the blood will have built up in her vagina. Naturally this can lead to discomfort in the form of stomach pain or backache; she might also have problems passing urine, or pain on passing stools.
If an imperforate hymen is suspected, a trip to the Doctor for a pelvic examination will be necessary. This is a simple process in which your Doctor should be able to confirm the presence of an imperforate hymen quickly. You may also be referred for a pelvic ultrasound scan to confirm it, and to rule out other potential issues that could be causing your symptoms.
Treating an imperforate hymen
Fortunately, treating an imperforate hymen is quite simple. It is a minor procedure consisting of a small incision in the hymen to let the blood pass through. A small ring may be temporarily inserted to keep the vagina open, if your Doctor deems it necessary. Alternatively, you can use vaginal dilators to keep the incision from closing up. You will only need to insert one for around fifteen minutes per day until it is healed.
Dilators made in the USA are available at www.vuvatech.com 
Once this procedure is complete, you should have no further problems with your cycle and if it has not been completely removed, your hymen should stretch or tear, or gradually wear away over time (depending on the type and frequency of sporting activities, sexual intercourse and tampon use).
If you (or your child) do have a surgical procedure to correct an imperforate hymen, rest assured that recovery is quick - healing should only take a few days. Such procedures are normally carried out around the time of puberty, although it is possible for it to be done shortly after birth. Ultimately this procedure is simple, safe and effective, and it will allow you to continue with life as normal a few days later.
Do you need to order vaginal dilators so you can start your pelvic floor therapy process? Made in the USA. Visit www.vuvatech.com 
VuVa Helpful Links:
How do Neodymium Vaginal Dilators work? 
7 Reasons for a Tight Vagina and How to Loosen 
How to Relax Vaginal Muscles, Vaginismus & Sex 
Vaginal Stretching - Keeping in Shape with Dilators 
Do Dilators Really Work? Yes, and They can Improve Your Sex Life!
Shop for VuVa Vaginal Dilators
Tara Langdale Schmidt is the inventor of the VuVa Dilator Company. She has pelvic floor dysfunction herself and wanted to create a dilator set that is made in America that women can trust. VuVatech has been in business since 2014 and has helped over 50,000 women all over the globe. She patented the Neodymium Vaginal Dilator, that is clinically proven to help with blood flow and nerve pain.