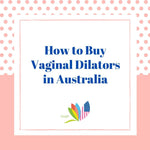 | Tara Langdale
How to Buy Vaginal Dilators in Australia
Buying vaginal dilators in Australia may be a lot easier than you think. All of our dilators are made here on American soil, but we understand that there is a worldwide need for the highest quality products – especially when it comes to health care of any kind. For this reason we have made our premium quality vaginal dilators available to Australian customers… and you won't have to wait too long to receive them either!
Our vaginal dilators have a worldwide reputation for both excellent quality and success rates, as our customer testimonials will confirm. If you think VuvaTech dilators have the products you need, we will be happy to ship your vaginal dilators to Australia…
How soon will I receive my dilators in Australia?
VuvaTech ship all dilators in our range via DHL Express to Australia, and you will have your order in as soon as 5 days. We process orders within 1 business day, shipping them out from our office here in Sarasota, FL. However, if you place your order after 1pm, we will send it out to you the following business day.
Please note that we aren't able to send orders out on USPS postal holidays, but as soon as it's business as usual your dilators will be on the way to Australia. We always let you know as soon as it has shipped and you'll get a tracking link so that you can stay up to date with your package. If your package is later than expected, note that delays usually only ever happen because of customs… and don't worry - these are infrequent and easy to resolve.
Which vaginal dilators are right for me?

We ship three different types of dilators to Australia. You can buy Neodymium magnetic dilators, silicone dilators and polycarbonate dilators.
VuVa Magnetic and Smooth Dilators are made from FDA approved, medical device grade polycarbonate. They are of the highest possible quality, meaning that they're non-toxic, latex-free and waterproof. As well as increasing blood flow to the tissues and relieving pain, they are great for accessing trigger points and breaking up scar tissue.
The material is both sturdy and thin because this allows the healing magnetic field to easily pass through to your tissues. It is worth noting that we conducted a double blind placebo clinical trial via the Sarasota Memorial Hospital IRB, which found that magnetic vaginal dilators are the most effective type of dilator for healing women's sexual health issues. If you would like to know more about why magnetic dilators are superior to non-magnetic dilators, take a look at this article.
Our silicone dilators, which are made in North America, are made from Medical Grade 6 Silicone and are free from latex. These dilators are our most flexible product and they're incredibly soft and smooth to the touch. They are very easy to insert and because the material can adapt to your body temperature, they feel really comfortable inside.
All of our vaginal dilators can be purchased individually in the size(s) you require, and you can also get mini sets or full sets (some with books and lubricant) if you prefer to have everything covered at once – this is probably the best idea when shipping dilators to Australia because you'll save on postage in the long run.
We hope this answers the questions you have about buying dilators in Australia, but we'll be happy to answer anything that isn't covered. So by all means get in touch with us, check out our blog advice, and don't forget to take advantage of the special offer codes we often put up for you to use at check out – these pop up when you enter our site. Wishing you every success in your healing!
Do you need to order vaginal dilators so you can start your pelvic floor therapy process? Made in the USA. Visit www.vuvatech.com 
VuVa Helpful Links:
How do Neodymium Vaginal Dilators work? 
7 Reasons for a Tight Vagina and How to Loosen 
How to Relax Vaginal Muscles, Vaginismus & Sex 
Vaginal Stretching - Keeping in Shape with Dilators 
Do Dilators Really Work? Yes, and They can Improve Your Sex Life!
Shop for VuVa Vaginal Dilators
Tara Langdale Schmidt is the inventor of the VuVa Dilator Company. She has pelvic floor dysfunction herself and wanted to create a dilator set that is made in America that women can trust. VuVatech has been in business since 2014 and has helped over 50,000 women all over the globe. She patented the Neodymium Vaginal Dilator, that is clinically proven to help with blood flow and nerve pain.