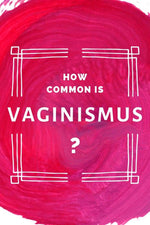 | Caroline Knight
How Common is Vaginismus According to Statistics?
How Common is Vaginismus According to Statistics?
    Women with vaginismus often complain about feeling alone with the problem. It isn't hard to imagine why that is, since there is unfortunately a lot of stigma and shame around discussing sexual conditions openly. For this reason, it is hard to be sure how common vaginismus really is. How many women are suffering in silence through embarrassment, or avoiding sex completely? So the question is: How common is vaginismus, really?
   It may help to know that according to studies, vaginismus is more common than you might guess – and the numbers may be even higher than studies have managed to pinpoint. Women do not always feel comfortable seeking help for the condition… and to make matters worse, incorrect diagnoses are quite common. Furthermore, not all healthcare providers keep accurate records or statistics on the number of women looking for assistance with sexual problems.
For those less familiar with the symptoms of vaginismus, it is a penetration disorder and/or pain condition that results in involuntary contraction of the vaginal muscles. The result is tightness, tension, pain and difficulty being penetrated or examined. Fear of penetration is a natural response to this.
How common is vaginismus? The statistics
   The general consensus in the medical industry is that approximately one in two women will develop vaginismus. The reasons for this vary, but can range from psychological wounding to physical trauma and general anxieties around relationships and intimacy.
Let's take a look at the statistics, as these are the best clue as to just how common vaginismus is:
Incidences of vaginismus are thought to be between 1 and 17% per year worldwide. 12 to 21% of North American women report some type of genito-pelvic pain to healthcare providers, and approximately 15% of North American women in report that they experience dyspareunia (painful sex) regularly.

Around 0.17% of females between 15 and 64 years of age (equating to over 27,200) in the UK have vaginismus
Women between 15 and 24 years of age are more likely to have it (perhaps due to intercourse anxieties when sexuality is first explored)
A survey of women consulting a birth control clinic concluded that 16 in 100 women displayed vaginismus symptoms
A sexual specialist Doctor in Ireland estimated that 5 in 1000 marriages in Ireland were affected by vaginismus
Over 3 years, UK relationship counseling organization relate estimated that 7% of their diagnoses were vaginismus (equating to between 150 and 200 cases)
Here are a couple of examples of what Doctors say about how common vaginismus is:
Dr. Harold I. Lief of the University of Pennsylvania estimates the occurrence of vaginismus to be around 4% of women – and that's only based on those seeking treatment. Dr. Marian E. Dunn, Director of the Center for Human Sexuality at the State University of New York Health Science Center in Brooklyn says that around 40% of women visiting them have vaginismus.
More statistics on vaginismus
47% of vaginismus sufferers are either single or dating
53% of women with vaginismus are married
53% are between 26 and 35 years of age
18% of vaginismus complaints come from women under 25 years old, according to a private American clinic
26% of women with vaginismus are between 36 to 50 years old (and most did not seek help for a long time – sometimes due to late marriage or marital issues due to the condition)
9% of vaginismus sufferers are 51 years of age or older
As you can see, vaginismus is happening to a lot of women around the world. If you are suffering from it, know that there are vaginismus solutions available. You may be able to treat your vaginismus psychologically, and you can also considering using neodymium vaginal dilators for your vaginismus symptoms.
Hopefully it helps to know that you are not alone, and that there are various ways to tackle the situation. We hope that Vuvatech can help in some way – so if in doubt, do ask!
Dilator therapy helps improve pelvic health and female sexuality. They are used to help a wide variety of female health concerns. Speak to your doctor today about how dilator therapy can help you.
Do you need to order vaginal dilators so you can start your pelvic floor therapy process? Made in the USA. Visit www.vuvatech.com 
VuVa Dilator Company Helpful Links:
How do Neodymium Vaginal Dilators work? 
7 Reasons for a Tight Vagina and How to Loosen 
How to Relax Vaginal Muscles, Vaginismus & Sex 
Vaginal Stretching - Keeping in Shape with Dilators 
Do Dilators Really Work? Yes, and They can Improve Your Sex Life!
Shop for VuVa Vaginal Dilators
Tara Langdale Schmidt is the inventor of the VuVa Dilator Company. She has pelvic floor dysfunction herself and wanted to create a dilator set that is made in America that women can trust. VuVatech has been in business since 2014 and has helped over 50,000 women all over the globe. She patented the Neodymium Vaginal Dilator, that is clinically proven to help with blood flow and nerve pain.
Podcast Episode 22: Tara Langdale-Schmidt
What's on Your Vagenda?
Click here