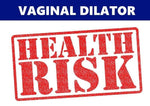 | Tara Langdale
Buying Vaginal Dilators? Read this to stay safe
What you need to know before buying vaginal dilators online. Tips to keep you safe.
Many women order vaginal dilators everyday on the internet including Amazon.com, but the truth is…you could be putting your health at risk.
I am a pelvic pain patient with Vulvodynia who founded VuVatech, a vaginal dilator company for women with pelvic pain. Our number one concern is for the safety of our customers. I have noticed a HUGE flaw that could impact your health when purchasing dilators.
We have noticed a very big flaw in Amazon's health products return policy when you are buying dilators with Amazon Prime. Not all Amazon sellers who have the privilege of having the famous blue checkmark are putting you at risk, Seller Fulfilled Prime Sellers and Self Shippers are ok. 
Our VuVa Brand has the Prime "check mark", but we are Seller Fulfilled Prime. Because we ship ourselves. 
This means that every order that is shipped out comes from OUR facility, not Amazon.
This is what you need to look for, it needs to be shipped by Seller:
You need to check where your vaginal dilator order is being shipped from and this is why:
When you order Prime from the Amazon Warehouse from other companies, they could be RETURNED dilators. Yes, you heard me right, you could be ordering USED dilators.
Our dilators are in heat sealed hygienic bags that cannot be returned unless unopened with a very strict note that if the bag is opened you cannot return. All of our customers follow this rule and return DIRECTLY to us if needed. We ordered other companies dilators and they came in zip lock bag! Yes…a resealable bag from the Amazon Warehouse. Someone could literally use the dilators and then RETURN them. Some did not even come in a zip lock, some came in a open ended plastic bag within a box, with no safety seal, how do I know these we not already used and returned??? You're leaving your safety up to Amazon employees that are having their health put at risk also. This Dilator set came in a dingy, cloudly  ziplock bag from the Amazon warehouse.
How would the employees at the Amazon warehouse know if they were used or not? It is their job to look and see if the item looks good enough to resell. If all you have to do it seal the zip lock bag back up, how would they know?
Here is an example of real reviews from this and another high selling set…please read the reviews.
Update from listing above as of May 2019
I called Amazon to complain about this issues on several occasions and tell them they need to change their policy. They literally agreed with me that they could be used but couldn't of cared less. I was beyond disgusted. I even wrote Jeff Bezos himself. No Answer.
Your vaginal dilator order could be placing your health at risk. Please order dilators from a reputable company that heat seals their products and ships directly from their own warehouse to insure you are getting a great, clean product that will not harm your health.
At VuVatech, your health and safety is our main priority. Your product will always come directly from our warehouse after the inspection process has been completed, in a heat sealed bag. When buying a VuVa Dilator set on any platform, via website or via Amazon, you will be safe.
I am a Vulvodynia patient turned Pelvic Pain Advocate. We are trying to heal from our pelvic pain conditions as a team, so I wanted to share this with you to keep you safe.
xoxo
Tara Langdale Schmidt
President/Inventor of VuVa Vaginal Dilators 
Dilator therapy helps improve pelvic health and female sexuality. They are used to help a wide variety of female health concerns. Speak to your doctor today about how dilator therapy can help you.
Do you need to order vaginal dilators so you can start your pelvic floor therapy process? Made in the USA. Visit www.vuvatech.com 
VuVa Dilator Company Helpful Links:
How do Neodymium Vaginal Dilators work? 
7 Reasons for a Tight Vagina and How to Loosen 
How to Relax Vaginal Muscles, Vaginismus & Sex 
Vaginal Stretching - Keeping in Shape with Dilators 
Do Dilators Really Work? Yes, and They can Improve Your Sex Life!
Shop for VuVa Vaginal Dilators
Tara Langdale Schmidt is the inventor of the VuVa Dilator Company. She has pelvic floor dysfunction herself and wanted to create a dilator set that is made in America that women can trust. VuVatech has been in business since 2014 and has helped over 50,000 women all over the globe. She patented the Neodymium Vaginal Dilator, that is clinically proven to help with blood flow and nerve pain.
Podcast Episode 22: Tara Langdale-Schmidt
What's on Your Vagenda?
Click here