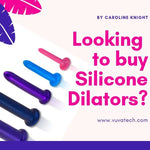 | Caroline Knight
Looking to Buy Silicone Vaginal Dilators?
 VuVaTech Can Help!
As is clear from a quick glance at the VuvaTech website, we are avid promoters of women's sexual health and well being. Since we are always looking to improve on our products and services, we have extended our range to give you even more options. If you want to buy silicone vaginal dilators, VuvaTech are pleased to say that we can now help you out.
Currently we supply a range of vaginal dilators in materials from plastic to magnetic (with Neodymium magnets), but we are aware that some women want to buy silicone vaginal dilators too. In case you don't know about the benefits of silicone dilators, here's a little more info:
Why buy silicone vaginal dilators?
VuVa™ Silicone dilators are made from soft, flexible 100% medical grade 6 silicone rubber. They have excellent heat retention properties, so they can hold body heat, which makes them more comfortable to use. You may warm them before use (in hot water), but if you prefer to chill them instead, you can be sure they'll retain a cooler temperature too. Be careful not to chill them too much, mind – overly cold dilators might cause reflex muscle spasms.
Our silicone vaginal dilators have a soft, satin-like texture not unlike your own body tissues, making them easy to handle and insert. When it comes to ergonomics, they are designed perfectly. The soft tip has been sloped so that the dilator is easy to insert, and each has a convenient contoured handle. In other words, you will have total control when using your dilator!
Other benefits of buying a silicone dilator
As well as the above, your silicone dilator is:
Flexible yet resilient – the silicone is robust and won't break
Water-resistant
Silicone warms up with body heat
Easy to clean and look after using normal fragrance-free soap
Safe to use – the silicone is non toxic
Soft and flexible to the touch
One of the best things about VuVa™ silicone dilators is that they have a vibe hole in the base (if you buy number 4 or 5 in the range, that is). This means you can insert your favourite vibe for a more interesting experience! The hole is 11/16" inches so will accommodate most standard vibes.
What to consider when buying silicone vaginal dilators
Our silicone dilators come in 5 different sizes, so you will need to decide on which size(s) you need. Check the list below to help you figure it out:
Size 1: Width: .5 Inches Length 3.25 Inches Circumference 1.57 Inches
Size 2: Width: .75 Inches Length 4 Inches Circumference 2.36 Inches
Size 3: Width: 1 Inches Length 5.25 Inches Circumference 3.14 Inches
Size 4: Width: 1.25 Inches Length 5.5 Inches Circumference 3.93 Inches
Size 5: Width: 1.5 Inches Length 5.75 Inches Circumference 4.71 Inches
You can buy each silicone dilator individually if you wish; alternatively, you might prefer to buy our pre-packaged silicone dilator set, which contains all five dilators, as well as a 4 oz Slippery Lubricant, instructions and a travel pouch.
Before purchasing a silicone dilator, also consider that:
Silicone dilators don't work so well on trigger points because of their flexibility 
Silicone dilators don't break down scar tissue as easily as plastic or magnetic dilators
You can't use oil-based or silicone lubricants, which might damage them
You'll need to be sure you know how to use your dilator, so do read up on that before first use. If buying a silicone dilator doesn't seem right for your needs, check out our range of magnetic vaginal dilators, and our medical grade polycarbonate plastic dilators too. If you're having problems with any of this, we're here to help – get in touch!