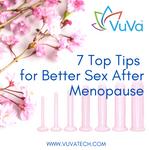 | Caroline Knight
7 Top Tips for Better Sex After Menopause
No woman alive can escape menopause. It is an inevitable phase in the female aging process, but that doesn't mean it has to be difficult. How a woman experiences menopause is down to a variety of factors, from hormone level fluctuations to diet, lifestyle… even mental resilience and emotional fortitude! Some women breeze through the menopause without any serious challenges, while others have an extremely bumpy ride. One thing is certain though: menopause causes physical changes, and sex after menopause is likely to be at least a little different than it was before.
If you don't happen to be one of the fortunate ladies who barely breaks a night sweat, you are probably experiencing a range of disorientating menopause symptoms too. This phase of your life is a time of adjustment and recalibration, so to speak. How menopause affects your sex life may be another concern entirely, if you have a partner to consider. They may not be ready for the changes you are experiencing, which could lead to some emotional management for both parties.
Our article outlines what to expect from the menopause, and answers some of the many questions women ask about this life change. Most importantly, by the time you reach the end you will be armed with some tried-and-tested tips for great sex after menopause.
Why is sex after menopause different?
The main reason sex is different after menopause is that you'll go though some physical changes that may affect both your libido and your sexual organs. The menopause occurs when your hormone levels start to decline with age. On average, this happens at around the age of 51, but for some it can happen earlier. This is known as premature or early menopause, and can happen to women who are as young as 40. Don't worry though – this is extremely unlikely, unless you were to receive a radiation treatment that affected your hormones.
For the average woman, by the time you reach your late 40s you should be in what is known as the 'perimenopause'. This can continue for up to ten years before you officially reach the menopause. During this pre-menopausal period, you will notice the symptoms of the fluctuations and gradual decline in your hormones. This may be when you first encounter the kind menopausal changes that affect your sex life, such as diminished libido or production of lubrication.
Once you pass the finish line, so to speak, you are more at risk of issues such as vaginal atrophy. Such physical changes can make sex difficult, uncomfortable and even painful, which obviously leads to challenges in maintaining a healthy and happy sex life. We will explain some of the symptoms of vaginal atrophy later in this article.
What are the most common symptoms of menopause?  
Typical menopause symptoms include:
Hot flashes
Night sweats
Mood swings and general irritability
Insomnia and difficulty getting off to sleep or staying asleep
Lack of libido
Dyspareunia (painful sex)
There are plenty of products available to manage the emotional and physical changes menopause brings. However, if you are finding that sex after the menopause is different – and not in a good way – know that this can be turned around with a few simple shifts in perception, the right products and some effort from yourself and your partner. We will cover this shortly with some tips for improving sex after menopause.
What physical changes does the menopause cause?
The physical changes you can expect during and after the menopause are as follows:
Thinner vaginal tissues
Vaginal dryness
Less flexibility in the tissues
Tightening or shortening of the birth canal (vaginal stenosis)
Irritation or Inflammation of the tissues
The majority of these menopause symptoms fall under the category of vaginal atrophy, which occurs because the decline in your hormone levels leads to a decline in blood supply to the vagina.
Will my sex drive come back after menopause?
It's possible that sex after menopause can be better for some women, for various reasons. HRT (hormone replacement therapy) may help to maintain the hormonal balance that keeps libido alive and female sexual function in order. However, this may not be necessary; some women say that sex after menopause is actually better due to other factors, and that their sex drive is stronger. This can be down to reasons such as:
Not feeling anxious about getting pregnant

Not having the pressure and responsibility of raising children

Having more personal time, thus feeling more relaxed
Anecdotal evidence suggests that although your sex drive will not return due to physical reasons, it is possible that mental or emotional reasons could instigate its return.
How can I improve my sex life after menopause?
You may be pleased to find that there are many good sex after menopause tips! The following are our top recommendations for how to improve sex after going through menopause: 
Stay lubricated with vaginal lubricants or moisturizers
As lubrication declines with your estrogen levels, you may need to give your body a helping hand. We suggest a non-irritating water-based lubricant, so as not to cause any inflammation to more delicate tissues. Another alternative is a vaginal moisturizer, which you will use regardless of whether you're having intercourse. These work gradually to keep moisture levels high so that when you do have sex, you're already ready to go!  
Hormone therapy
There are several forms of hormone therapy that can help to improve sex after menopause. ERT (Estrogen Replacement Therapy) is not suitable for everyone, so you'll need to consult a physician for a prescription. Another option is MHT (Menopausal Hormone Therapy), which lessens troublesome vasomotor symptoms like hot flashes and vaginal atrophy. Again, you'll need to check suitability with your Doctor.  
Herbal concoctions
Ladies who prefer to do things naturally may want to try out natural products such as Black Cohosh or other herbs for the menopause. Herbs such as Bacopa Monnieri, Korean Ginseng, Vitex (Chasteberry), Maca and Red Clover are known to boost libido and energy levels in some postmenopausal women.
Communication with your partner – honesty is the best policy
Lack of communication around sex after the menopause can actually exacerbate the issues you are experiencing. Help your partner to understand what you are experiencing, both in and outside of the bedroom - especially with regard to lack of libido and physical discomfort. This way they will be able to see that your lack of enthusiasm is not a case of personal rejection, and the chances of damaging assumptions and relationship challenges is less likely to get a foothold.
Similarly, you should explain gently what you do want, and which changes might be necessary to keep things flowing between the two of you.
Play more (and be creative in the bedroom)
In order to fire up your libido, you might need a little more encouragement in the form of foreplay. Your partner may need to understand that good sex will take more effort at this time, but if this effort is made, it's possible that sex could be even better than it was before the menopause!
The more often you have sex, the bigger the benefits for a post-menopausal body, because you are less at risk of developing vaginal atrophy.
Look after your general health
This one is simple: kegels, regular exercise and a healthy diet can make quite a difference to your sex life. Don't burden your body with toxins such as excessive alcohol consumption or smoking, and you are likely to reap the benefits of optimal vitality… one of which is increased libido!
Magnetic vaginal dilators
Vaginal dilators are valuable tools for post-menopausal women - especially those who don't have regular sex. They help gently stretch the vagina and expand its capacity, thus warding off vaginal atrophy. Sex after menopause is often better because a woman uses vaginal dilators outside of the times she is having sex.
Our Neodymium magnetic dilators are most popular with menopausal women because they improve blood flow to the tissues, which helps to produce lubrication, calm nerve endings and promote relaxation… all of which are necessary for great sex! If you're new to these useful little devices, check out our guide to choosing the right vaginal dilator or drop us a message and we'll be happy to assist however we can.
RESOURCES
https://www.vuvatech.com/blogs/care/why-sex-is-more-difficult-after-menopause
https://www.vuvatech.com/blogs/care/premature-menopause-and-why-sex-hurts
https://www.vuvatech.com/blogs/care/atrophic-vaginitis-treatment-with-magnetic-vaginal-dilators
https://www.vuvatech.com/pages/vaginalatrophy
https://pubmed.ncbi.nlm.nih.gov/7169958/

Do you need to order vaginal dilators so you can start your pelvic floor therapy process? Made in the USA. Visit www.vuvatech.com 
VuVa Helpful Links:
How do Neodymium Vaginal Dilators work? 
7 Reasons for a Tight Vagina and How to Loosen 
How to Relax Vaginal Muscles, Vaginismus & Sex 
Vaginal Stretching - Keeping in Shape with Dilators 
Do Dilators Really Work? Yes, and They can Improve Your Sex Life!
Shop for VuVa Vaginal Dilators
Tara Langdale Schmidt is the inventor of the VuVa Dilator Company. She has pelvic floor dysfunction herself and wanted to create a dilator set that is made in America that women can trust. VuVatech has been in business since 2014 and has helped over 50,000 women all over the globe. She patented the Neodymium Vaginal Dilator, that is clinically proven to help with blood flow and nerve pain.
Podcast Episode 22: Tara Langdale-Schmidt
What's on Your Vagenda?
Click here