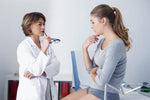 | Tara Langdale
Cervical Cancer Treatment: Vaginal Dilators Can Help
After cervical cancer treatment, you might be struggling with uncomfortable issues, including inhibited vaginal function. Find out how magnetic vaginal dilators can accelerate your healing...
Make your Pelvic exams and intercourse more comfortable after cervical cancer treatment
You have finished your cervical cancer treatment and have found that your more than frequent exams have left you feeling sore. Sex with your partner may have become uncomfortable and less pleasurable. The side effects of the various cervical cancer treatments can be painful and you may be seeking relief.  Many women have found relief after and during treatment with vaginal magnetic dilators.
During cervical cancer treatment, scar tissue may begin to form in the vagina and the tissue may become less elastic and dry. There may be some shrinking of the vagina and vaginal opening.  Scarring of the vaginal tissue results in adhesions, which may start to seal the sides of the vagina together. This can make it difficult for the doctor to perform vaginal exams and it can make it more uncomfortable.
Pelvic radiotherapy (RT) plays an integral role in managing gynecologic and pelvic gastrointestinal (GI) malignancies. This has been shown to reduce local recurrence, but can lead to long-term side effects, particularly vaginal stenosis (VS), shortening and narrowing of the vagina. Prevalence of radiation-induced VS after pelvic RT for gynecologic malignancies varies widely [1–3]. However, impact of VS has been well documented, with increased rates of dyspareunia, leading to diminished frequency of, and satisfaction with, sexual intercourse [4, 5] and pain on vaginal examination, potentially impairing thorough and adequate pelvic assessment [3].
If your doctor decides that you need to receive radiation therapy to your pelvis, they may recommend that you use a vaginal dilator to improve the elasticity of your vagina.  Also, this is important to make follow up examinations and intercourse easier and more comfortable. 
How does the Vaginal Dilator Work?
A VuVa™ vaginal dilator is a smooth plastic graduated cylinder, similar in shape to a tampon. They ranges from 3 inches to 6 inches in length and come in five different widths. The vaginal dilator works by stretching the scar tissue that has formed in the vagina. This helps to make physical exams by your physician more comfortable. It is a good idea to use the dilators for the rest of your life, as scarring can occur at any time after cervical cancer treatment.
VuVa™ magnetic dilators take it one step further using magnetic therapy.  When inserted, your soft tissue lengthens, relaxing muscles and ligaments. As the tissue relaxes, the Neodymium magnets increase blood flow to the painful area calming nerves. VuVa™ Dilators are the only patented dilators available with Neodymium magnets.
What is Neodymium Magnetic therapy?
Magnetic therapy is based on the premise that all living organisms exist in a magnetic field, including the human body. The human body generates its own magnetic field. Therefore, the body can heal itself when electromagnetic energy is in balance.
The "North Pole" of a neodymium magnet is often referred to by medical researchers as the "healing side" of the magnet. The VuVa™ vaginal dilator set contains over sixty strategically positioned neodymium magnets that allow this field of soothing energy to flow into the body.
Alkaline magnets aid healing from cervical cancer treatment
Iron is a component of our blood content and every ion – or atom – contained in our cells carries oxygen and produces an electrical impulse. These two elements make up our bodies own electrical magnetic field.  This means when the negative north side of a magnet is placed next to a painful area, it draws fresh oxygenated blood to the nerves and surrounding muscles.
This, in contrast, is a positive energy field. The positive energy field creates two results: as magnets are alkaline, it counteracts any acidity in the body caused by disease and fresh blood helps to remove any acidity from the body which, in turn, accelerates healing while reducing pain. Life after cervical cancer treatment no longer needs to be a nightmare for women.
Tara Langdale-Schmidt is the inventor of the VuVa Neodymium Vaginal Dilator set. Prior to inventing the VuVa Vaginal Dilators, Tara suffered with vulvodynia for 4 years. Due to her reduction in pain and positive feedback from doctors, Tara created VuVatech, a company dedicated to helping women with pelvic pain. Her story has been shared across the globe in many publications such as Glamour Magazine, SELF, BBC, Huffington Post and more.
Please click to visit VuVatech.com for more product information and ordering.
Please consult with a medical professional before beginning any type of treatment or vaginal health therapy.
Dilator therapy helps improve pelvic health and female sexuality. They are used to help a wide variety of female health concerns. Speak to your doctor today about how dilator therapy can help you.
Do you need to order vaginal dilators so you can start your pelvic floor therapy process? Made in the USA. Visit www.vuvatech.com 
VuVa Dilator Company Helpful Links:
How do Neodymium Vaginal Dilators work? 
7 Reasons for a Tight Vagina and How to Loosen 
How to Relax Vaginal Muscles, Vaginismus & Sex 
Vaginal Stretching - Keeping in Shape with Dilators 
Do Dilators Really Work? Yes, and They can Improve Your Sex Life!
Shop for VuVa Vaginal Dilators
Tara Langdale Schmidt is the inventor of the VuVa Dilator Company. She has pelvic floor dysfunction herself and wanted to create a dilator set that is made in America that women can trust. VuVatech has been in business since 2014 and has helped over 50,000 women all over the globe. She patented the Neodymium Vaginal Dilator, that is clinically proven to help with blood flow and nerve pain.
Podcast Episode 22: Tara Langdale-Schmidt
What's on Your Vagenda?
Click here