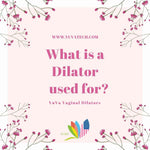 | Tara Langdale
What is a dilator used for? - VuVa Dilator Company
Why is it important to use a vaginal dilator?
A vaginal dilator is an instrument designed to gently stretch the vagina when it has tightened, shortened or narrowed, or to reduce or eliminate the pain associated with various gynecological problems. These small tube-shaped devices are made of medical grade-silicone or plastic and come in various sizes. Vaginal dilators can are used to restore or expand the muscles of your pelvic floor and the tissues of your vagina.
A healthy vagina has good elasticity, and flexibility and lubrication, enabling normal function. If any of these factors are compromised, the vagina can start to narrow or close over time; it also may lose the ability to stretch normally when penetration is required. In order to be able to have comfortable sexual intercourse or vaginal examinations (or even to insert tampons or pessaries) it is necessary to maintain your vaginal capacity.
In this article we will take a look at what dilators are used for, the problems and conditions they can treat, and how you should use them...
What are vaginal dilators are used for? 
Vaginal dilators are used for various reasons. What you use a dilator for will depend on the problem you are experiencing. Below are some of the most common reasons for using a vaginal dilator:
To expand the depth and width of the vagina
To regain or maintain elasticity and flexibility in the vaginal tissues
To prevent or treat vaginal scarring and adhesions
To prepare the vagina for penetration (sex, examinations, tampons, etc.)
To train the vagina to respond positively to touch
To relax or train the pelvic floor muscles
What are dilators used to treat?
There are many gynecological conditions that improve after vaginal dilator therapy. Some of the more common conditions are:
Vaginal atrophy due to low estrogen/menopause or cancer therapies (such as pelvic radiation or brachytherapy)
Diseases, such as lichen planus or lichen sclerosus
Shortening or narrowing of the birth canal (vaginal stenosis)
Pain conditions such as vulvudynia, vestibulodynia, pudendal neuralgia and dyspareunia (painful sex)
Involuntary tightening or spasms in the vagina (vaginismus)
Dilators are frequently used to relax the pelvic floor muscles in the case of a hypertonic pelvic floor (in short, a tightened pelvic floor). Women often experience vulvar or vaginal pain due to the constricted pelvic floor muscles, whether that's because of vaginismus, mis-performed or excessive kegels, or too much exercise. Dilators are helpful in the case of spasms or constriction of the pelvic floor muscles (or levator ani muscle - the largest component of the pelvic floor).
Vaginal dilators are one of the most effective treatment tools for pelvic floor problems, which is why pelvic floor physical therapists often use vaginal dilators with their clients. They also commonly suggest exercises and stretches to be done with the dilator in place at home.
You may appreciate our article on when you need vaginal dilators, since it gives more detail on how vaginal dilators help most of the above conditions, as well as a few others.
Less common reasons you may need a dilator
Vaginal agenesis is a rare condition that occurs when the vagina doesn't develop properly, and the uterus might only develop partially, if at all. It is also named 'mullerian aplasia' or 'Mayer-Rokitansky-Kuster-Hauser syndrome' (MRKH). Vaginal agenesis happens before birth, and is often concurrent with kidney, heart or skeletal abnormalities. In some cases it is possible to help vaginal agenesis with dilators.
Dilators are sometimes used to aid recovery after vaginal construction or reconstruction, or gender reassignment surgery. It is possible for the vagina to start shrinking after surgery, develop scar tissue or close over time. In such cases, vaginal dilators can be very helpful in maintaining the capacity of the vagina.
How should you use a dilator?
You would normally start with the biggest dilator you can comfortably fit inside you, and gradually work your way up to using the larger sizes over time. To make this easier you can buy vaginal dilators in convenient sets.
Here is a brief guide to using dilators:
Wash your dilator in hot water and mild soap, rinsing properly before use
Laying on your back with knees bent, open your legs to a comfortable degree
Add personal lubricant to the tip of your dilator if needed
Gently but firmly insert the tip of the dilator into your vagina
Using gentle pressure, keep the dilator in place for as long as your protocol recommends
Remove the dilator and clean with hot, soapy water before rinsing and air-drying it
Remember that it is normal to feel mild discomfort, but severe pain is not a good sign – so be sure to check with your healthcare professional if you're experiencing a lot of pain. Another thing to note is that there are no standardized protocols for using dilators, which can leave some women confused. Rest assured that our protocol on using vaginal dilators has been developed based on studies, years of experience in the field, and advice from leading pelvic floor physical therapists.
We hope that our article has helped you to understand what a dilator is used for, and as always, feel free to drop us a line if you have any questions about how our products can help you.
References
https://pubmed.ncbi.nlm.nih.gov/32364016/
https://pubmed.ncbi.nlm.nih.gov/32014450/
https://www.ncbi.nlm.nih.gov/pmc/articles/PMC4921398/
https://urology.stanford.edu/content/dam/sm/urology/JJimages/publications/Pelvic-floor-physical-therapy-in-the-treatment-of-pelvic-floor-dysfunction-in-women.pdf