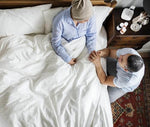 | Tara Langdale
Can I Use a Vaginal Dilator After Radiation?
For women receiving pelvic radiation therapy, your healthcare professional may recommend that you use a vaginal dilator to improve vaginal elasticity. Vaginal dilators make examinations more comfortable, ease discomfort during sexual activity, and help stretch scar tissue caused by pelvic radiation. It's essential that you consider dilator therapy a vital part of your health maintenance once radiation therapy ends.
Table of Contents
Why are vaginal dilators needed?
According to the American Cancer Society, radiotherapy uses high energy rays (such as gamma rays or x-rays) to kill cancer cells. Radiation therapy is the most common treatment for cervical cancer. The high energy rays may kill the cancer cells, but radiotherapy treatment could cause healthy vaginal tissue to become irritated and sore. As the abrasions heal, they form scar tissue on the pelvic floor. The scar tissue can make the vagina shorter and narrower. Once this happens, sexual intercourse, gynecological examinations, and even using tampons can cause searing and stinging pain. Vaginal dilators help stretch the vaginal canal, helping to widen and lengthen the vagina.
What is a vaginal dilator?
VuVa vaginal dilators are smooth plastic devices similar in shape to a tampon. They come in different sizes with the smallest about the size of a finger. It's recommended to begin with the smallest size. Vaginal dilators help stretch the vagina and soften scar tissue by increasing blood and breaking up scar tissue.
When should I use the dilator?
One of the most frequently asked questions is, when should I use the dilator?  Health professionals recommend starting treatment four weeks after your last radiation session. This timeline will depend on whether you're experiencing any pain from the cancer treatment and the recommendation of your doctor. A healthy sex life can replace dilator use, but sexual intercourse should be consistent (3-5 times per week).
How should I use a dilator after radiation?
The use of a dilator after radiation is easier than you think. It's recommended you find a private space where you won't be interrupted.
Lay on your back with your knees bent, and legs open wide.

Rub water-based lubricant on the vaginal dilator.

Slowly insert the dilator along the vaginal wall.

Move back and forth to help stretch the vagina.

Leave the dilator inside for 5-10 minutes at first, gradually moving up to 20 minutes per session.
What can I expect from using the dilator?
Stretching the vagina takes time and consistent dilator use. It may take 8-12 weeks to increase the vaginal opening and ease scar tissue. For some women, there's a period of adjustment before it becomes routine. At first, there may be some bleeding after using the dilator or having intercourse. This is normal but speak to your doctor if the pain is excessive.
Using a vaginal dilator after radiation is a conventional treatment for women's health. It will not only help to remove scar tissue, but also improve the overall quality of one's life.
______________
This post was informed by or approved by staff, writings or colleagues of Dr. Robert J. Echenberg, MD is an Obstetrician-gynecologist in Bethlehem, Pennsylvania.
Other VuVa Helpful Links:
7 Reasons for a Tight Vagina and How to Loosen 
How to Relax Vaginal Muscles, Vaginismus & Sex 
Vaginal Stretching - Keeping in Shape with Dilators 
Do Dilators Really Work? Yes, and They can Improve Your Sex Life!
Shop for VuVa Vaginal Dilators