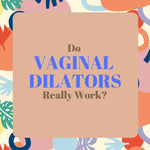 | Tara Langdale
Do Vaginal Dilators Really Work?
Do I need one?
If you're trying to overcome a medical condition in the pelvic area, or the after-effects of treatment for it, you might be asking yourself an important question: "Do vaginal dilators really work?"
Well, vaginal dilators are used as a standard treatment for a whole range of problems in the vagina, from vaginismus to vaginal atrophy. In many instances, a pelvic floor physical therapist or radiotherapy Doctor will prescribe the use of vaginal dilators - sometimes ongoing. These healthcare providers are well aware that vaginal dilators really work, and there is much anecdotal evidence to support this too.
Which conditions do vaginal dilators work on?
Below are some of the most common medical conditions that vaginal dilators work on. At times it is necessary to dilate the vagina for relief from the symptoms of:
Vulvar dermatoses
Superficial dyspareunia
Post-radiation adhesions
High-tone pelvic floor dysfunction
Psychogenic dyspareunia (used as a deconditioning therapy)
There are also other conditions of the pelvic floor area that can be helped by using vaginal dilators. If you are having pelvic floor physical therapy for any reason, you may find that your therapist prescribes vaginal dilator therapy within the sessions or at home.
Aside from supplementing pelvic floor physical therapy, vaginal dilators work as a supplement to the following therapies:
Sexual therapy
Psychotherapy
Minimally-absorbed local vaginal estrogen therapy
Intravaginal muscle relaxants
How do vaginal dilators work?
Vaginal dilators are smooth cylindrical objects made of material that is safe to insert into the vagina. They come in various sizes and weights, and are usually made from silicone, plastic, rubber, or glass. They range from the size of a pencil to the size of an erect penis, approximately.
Vaginal dilators work by restoring the capacity of the vagina (birth canal and/or vaginal opening). The aim is to expand your vagina in both depth and width, as well as to increase the tissue elasticity. Dilators encourage blood flow to the area – especially dilators containing neodymium magnets.
When the vagina is able to open up more, however gradually, you will find that you can have more comfortable sexual intercourse, or even just necessary clinical examinations.
How do you know if vaginal dilator therapy has worked?
Since the aim of using vaginal dilators is to restore proper function to the vagina, you can consider it a success when you have been able to resume normal, comfortable sexual activities or examinations. It may take anything from a few weeks to several months for vaginal dilator therapy to work, and some Doctors recommend use ongoing.
To give you an example, this study demonstrated that each patient in the case studies had successfully resumed sexual activity after several months of dilator therapy, sometimes when used in combination with other medical interventions. Furthermore, this study saw good results with sufferers of vaginal stenosis after radiotherapy.
In addition, sexual researchers Masters and Johnson advocated vaginal dilator use for female patients with sexual dysfunction so that they could "interrupt the cycle of pain–fear–muscle spasm–more pain, and to build confidence in the privacy of the marital bedroom."
To put your mind at ease, here at Vuvatech we also have plenty of testimonials from happy customers who have decided that our vaginal dilators really work. Feel free to check those out and ask us any questions you have!