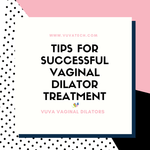 | Tara Langdale
Tips for Successful Vaginal Dilator Treatment
Vaginal dilators have for a long time been considered one of the most effective treatments for a wide range of pelvic floor and sexual disorders. One of the most common reasons for using vaginal dilators is to restore normal sexual function, often including the reduction or elimination of pain during sexual intercourse (dyspareunia). Sexual health professionals are usually the first to recommend vaginal dilator treatment for women presenting with such symptoms.
Vaginal dilators come in many forms, such as plastic, silicone, latex, and medical-grade materials. You can purchase them individually according to size requirements, or as a set. Some have special features, such as our patented range with strategically-placed magnets, which increase blood flow and sooth painful nerves. Dilators are able to create a brain-body connection that reduces the anxiety and pain associated with both the anticipation and the act of sexual intercourse for women with issues in this regard.
Vaginal dilators are popular with postmenopausal women, those who have completed a course of cancer treatment (chemotherapy), and women with pelvic pain disorders such as vaginismus or vulvodynia. However this list is far from exhaustive, since dilators rehabilitate women suffering from a long list of pelvic conditions.
Is vaginal dilator treatment always successful?
Studies and statistics say that yes, vaginal dilator treatment is generally successful, and this is certainly confirmed by our customers, as you can see on our testimonials page. However, we recognize that 'success' is not always black and white. When managing and overcoming sensitive and complex conditions, it goes without saying that successful treatment can depend upon various factors. Similarly, what constitutes success can be very subjective – or you could say that there are degrees of success.
Furthermore, there are no clinically proven standardized protocols for women who wish to use dilators, which leaves many guessing about the best ways to use their dilators for the most successful outcome. At VuvaTech we want to be sure that all of our customers get the best possible use from our products, so we have compiled some helpful data and tips on best use of vaginal dilators.
Factors involved in successful vaginal dilator treatment
Among the factors that contribute to successful dilator treatment are:
Adopting effective tried-and-tested protocols
Consistency and correct frequency of treatment
Attitude (for example, compliance to protocols and the will to be persistent)
Longevity of dilator treatment
Quality of vaginal dilators and adjunctive treatments
User behavior is a primary factor in optimal success, yet aside from the occasional clinical study, this is something all too often overlooked. For this reason there isn't a huge amount of data out there on how user behavior affects the success of vaginal dilator treatment, nor how successful clinical assistance has been for those who sought it.
Fortunately there is some, as outlined in this PubMed article on vaginal dilation, which summarizes the results of various other vaginal dilator research studies. The researchers reviewed and summarized 29 English articles to come to the conclusions therein.
A large proportion of the summary data on user behavior was derived from early data from a 3-month survey of women using a vaginal dilator called 'Milli', an electronic dilator that gradually expands at a rate controlled by the patient. Patients described feeling emotions such as anxiety and frustration during the process, which is typical when starting out with vaginal dilators. Encouragingly they also indicated that using the dilators made them feel empowered and optimistic.
We have used this information in conjunction with our wealth of experience on women's sexual health issues and vaginal dilators to bring you insights into best practices when using vaginal dilators.
Typical dilator user behaviors
The PubMed article above indicated the following user behaviors on average:
Patients used the vaginal dilators for an average of 2.72 days every week
The average patient's dilator session lasted for between 6 and 10 minutes
3% of patients dilated mostly in the evening time, or at bedtime, and 96.8% did so in the bedroom
It is important to note that the above factors were not cited as being part of the trend toward improved patient outcomes. In our experience it is very important that dilators are used regularly, and that the session times are appropriate in length. Conversely, it is of no particular importance when and where you choose to dilate, except that it is wise to be in a private and comfortable setting so that you can relax fully.
User behaviors that did indicate improved patient outcomes in the PubMed article were:
Practicing mindfulness (meditation)
Listening to soothing music
Dilating for a period of more than 3 months
Although watching TV or videos during vaginal dilator sessions was cited as a common user behavior, best results came from listening to soothing, relaxing music, and meditation.
Our top tips for dilator success
Based on our experience and feedback from customers who had success with our dilators, we recommend the following protocol to achieve the best results from your vaginal dilator treatment:
Use your dilator at least 5 times per week, up to 7 times per week
Use your dilator for between 20 and 30 minutes each time
Use your dilator once or twice per day (you can decrease frequency once you see improvement)
Continue using your dilator for as long as is necessary to drastically improve your condition, before dropping to a 'maintenance frequency' (e.g. once or twice per week ongoing, if needed)
We know that it can be difficult to use a dilator for 20 minutes when you first start using them, so we recommend being persistent. Everyone progresses at different rates, and everyone has different pain levels and conditions to deal with. You will be able to tolerate the process much more easily with time. It is important to keep at it, doing it for as long as you can stand it until you work your way up to the 30-minute mark.
As the PubMed article mentions, listening to soothing music or meditating while you use your dilator will bring about the best results, mainly because this puts your mind and body in a relaxed state so that you are more able to move past your comfort zone.
Adjunctive treatments worth considering are vaginal moisturizers and personal lubricants, local estrogen products (if prescribed by a doctor), and pelvic floor physical therapy with a recommended practitioner if you are not improving over time. It is worth noting that in the study using the Milli dilators, over 70% of participants were using them with no direct guidance from a qualified clinician, suggesting that optimal results are often achieved without this.
To summarize, provided that you are persistent with your vaginal dilator treatment and dilate regularly, use quality products while using relaxation aids (if needed), and incorporate beneficial adjunctive treatments into your protocol, there is no reason you won't achieve excellent results! 
Liu M, Juravic M, Mazza G, et al. Vaginal Dilators: Issues and Answers. Sex Med Rev 2020;XX:XXX-XXX.
VuVa Helpful Links:
How do Neodymium Vaginal Dilators work? 
7 Reasons for a Tight Vagina and How to Loosen 
How to Relax Vaginal Muscles, Vaginismus & Sex 
Vaginal Stretching - Keeping in Shape with Dilators 
Do Dilators Really Work? Yes, and They can Improve Your Sex Life!
Shop for VuVa Vaginal Dilators
Tara Langdale Schmidt is the inventor of the VuVa Dilator Company. She has pelvic floor dysfunction herself and wanted to create a dilator set that is made in America that women can trust. VuVatech has been in business since 2014 and has helped over 50,000 women all over the globe. She patented the Neodymium Vaginal Dilator, that is clinically proven to help with blood flow and nerve pain.
Podcast Episode 22: Tara Langdale-Schmidt
What's on Your Vagenda?
Click here