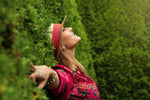 | Caroline Knight
Which Perimenopause Treatments are Right for You?
There are various perimenopause treatments available to you, so it's time to find out more about the right treatments to manage your symptoms...
Following our recent article on perimenopause symptoms, we thought that those of you going through it might want to hear about the different perimenopause treatments available to you. There are various treatment options for perimenopause and depending on your preferences, you might wish to choose between allopathic or natural treatments.
There are several treatments for managing perimenopausal symptoms. Depending on the kind of perimenopause symptoms you are experiencing, you may need different treatments for different symptoms. Here is the lowdown:
1. Perimenopause treatments for changes in your monthly periods
If you are having irregular periods or heavy bleeding, you can opt for low-dose contraceptive pills. This won't be an option if you are trying to conceive, but it can work well to regulate your cycle and hormones. As birth control pills will suppress ovulation and modulate your menstrual flow, they will ease uncomfortable symptoms significantly.
Low-dose contraceptive pills are also helpful in minimizing hot flashes. Another added bonus is that they can ease endometriosis symptoms, and prevent bone loss and ovarian cancer. You will be able to take low-dose contraceptive pills until the menopause, dependent on blood test results from your Doctor.
A natural treatment worth considering is CBD oil. It suppresses key hormones during the premenstrual phase and alters levels of important hormones prolactin and cortisol. Many women report relief from PMS-type symptoms while using cannabis oil, although it has not yet been proven that this isn't simply down to its anti-anxiety and relaxant qualities. Whatever the reason for relief… if it works, it works! You can use it for sleep disturbance symptoms during perimenopause too, as is known for aiding restful sleep. Lastly, cannabis oil can help your sex life, so it's got to be worth a try.
2. Perimenopause treatments for hormonal irregularities and mood swings
Your fluctuating hormones cause period irregularities and flow changes, but they can also cause mood swings. Again, regulating hormones via a low-dose contraceptive pill can help you to feel more even-tempered. Some Doctors will put menopausal women on a program of Hormone Replacement Therapy (HRT), but this should be considered with caution as it has associated side effects. It is more likely to be required around the time of the menopause than the perimenopause anyway.
In terms of natural treatments, many women have had success with a natural plant-based supplement called Chaste Tree Berry (Vitex agnus-castus). This is a powerful natural perimenopause treatment that treats both mood swings and other PMS-type symptoms, but it also eases the intensity of hot flashes and night sweats. Many women use it for the successful treatment of PMS and reproductive disorders outside of the perimenopause too.
Vitex is considered to be one of the most effective natural herbal treatments for perimenopause and PMS. In fact, five out of six studies found it to be superior to both placebo and Prozac, which is sometimes used for severe PMS. Another perimenopause treatment worth considering is Maca Root (Lepidium meyenii or Lepidium peruvianum), from the Peruvian Andes. It is used as a natural medicine for infertility, low libido and female hormone imbalances.
3. Appropriate treatments for hot flashes
If you are suffering with hot flashes and night sweats, there are things you can do to mitigate the effects. Some might be obvious, like reducing the air temperature in your home and staying away from hot drinks and spicy food. Similarly, dressing in fewer layers may help some. However, if these behaviours aren't helping much, you can use a low-dose estradiol product in the form of pills, patches or topical gel. This is something your Doctor will need to prescribe. 
We don't like to recommend taking strong medicines that may have other side effects (such as metabolic interference and other drug contraindications). However, if your hot flashes are severe and you don't like the idea of taking hormones, you might prefer to take an antidepressant like Effexor (venlafaxine), or a different kind of selective serotonin reuptake inhibitors (SSRI). Prozac (fluoxetine) and Paxil (paroxetine) are two common choices.
4. Vaginal dryness perimenopause treatments
Vaginal dryness is a common perimenopause symptom that is often treated medically by low-dose contraceptives or vaginal estrogen in the form of creams, rings, gels or pills. Yet it is not necessary to take hormones for this reason alone; you can get relief through various vaginal lubricants that increase moisture, elasticity and regulate acidity.
Although it might be tempting to avoid it, maintaining a regular sex life can help to keep the vagina toned and regulate the acidity levels required to prevent infections. You may also want to use personal lubricants for sex and general lubrication.
Although there are lots of different perimenopause treatments out there, there will be something that works well with your personal constitution. The VuvaGirl website is packed full of advice and products designed to help you with any women's health issues you have. That's what we're here for, so feel free to get in touch!