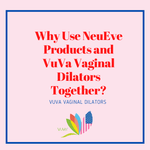 | Caroline Knight
Why Use NeuEve Products and VuVa Vaginal Dilators Together?
We have some good news for you! There is a winning combination available for women with common gynecological disorders and sexual problems caused by the menopause and cancer treatments: VuVa vaginal dilators and NeueEve suppositories.
If you experience vaginal tightness, dryness or painful sexual intercourse, this could be just the combination for you. Quite often when women go through the menopause (whether naturally or because of chemotherapy) they experience a number of troubling problems such as vaginal atrophy, vaginal tightness, dryness and painful sex.
These things can happen due to other gynecological conditions too (read on for those), but regardless of cause, there is a solution that has worked incredibly well for many women. Let us explain…
Why use Vuva vaginal dilators and NeuEve products?
About vaginal dilators
VuVa vaginal dilators can regenerate vaginal capacity, expand the walls of the vagina and enhance tissue elasticity, making sexual intercourse and gynecological examinations much more comfortable.
Women use vaginal dilators for conditions including the following:
Vulvodynia
Vaginismus
Vaginal agenesis
Vaginal atrophy and menopause
 Vaginal Dilators made in the USA available at www.vuvatech.com
Women who experience pain during penetration are likely to get great results from VuVa Neodymium magnetic dilators, as they improve blood flow to the vaginal tissues and calm the nerves. Clinical trials showed that they reduced pain in 80% of study participants, with zero side effects!
About NeuEve suppositories and creams
NeuEve suppositories and creams are the perfect products to ease menopausal symptoms such as:
Vaginal odor and bacterial vaginosis
Vaginal dryness
Vaginal atrophy
Itching and burning
Painful sex (dyspareunia)
NeuEve products provide essential and long-lasting lubrication at the same time as calming irritated tissues and clearing unpleasant odors. The list of benefits is long, and they work better than other moisturizers and jellies designed for similar purposes.
They don't contain any hormones (no estrogen!) and all of the ingredients in NeuEve products are 100% natural and food grade. NeuEve care about health and ethics, which is why you won't find any toxic parabens, petrochemicals and similar in their products… and (of course) they don't test on animals or contain animal products.
Why VuVa vaginal dilators and NeuEve products work well together
If you are using dilators for any of the above-mentioned conditions, you are likely to find it much more comfortable to use a lubricant for easy insertion. Since VuVa products are all made from non-toxic, bio-friendly constituents, NeuEve products are the perfect complement.
Both VuVa and NeuEve products are great for relieving the symptoms associated with peri-menopause and post-menopause, painful sex, vaginismus, vulvodynia and other challenging gynecological problems… so by using both together you can significantly improve your condition.
VuVa and NeuEve have something very important in common: both companies have the mission to do everything we can to help women restore their sexual and gynecological health, so that they can relax and enjoy life just as they were always meant to. Feel free to get in touch with us if you have any product questions, and don't forget to check our blog out for advice on all of the conditions above.
Do you need to order vaginal dilators so you can start your pelvic floor therapy process? Made in the USA. Visit www.vuvatech.com 
VuVa Helpful Links:
How do Neodymium Vaginal Dilators work? 
7 Reasons for a Tight Vagina and How to Loosen 
How to Relax Vaginal Muscles, Vaginismus & Sex 
Vaginal Stretching - Keeping in Shape with Dilators 
Do Dilators Really Work? Yes, and They can Improve Your Sex Life!
Shop for VuVa Vaginal Dilators
Tara Langdale Schmidt is the inventor of the VuVa Dilator Company. She has pelvic floor dysfunction herself and wanted to create a dilator set that is made in America that women can trust. VuVatech has been in business since 2014 and has helped over 50,000 women all over the globe. She patented the Neodymium Vaginal Dilator, that is clinically proven to help with blood flow and nerve pain.