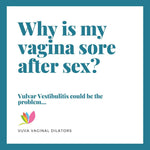 | Tara Langdale
Why is my vagina sore after sex? Vulvar Vestibulitis could be the problem…
Vulvar vestibulitis (also known as provoked vestibulodynia) is the most common reason for superficial pain in the vaginal opening (the vestibule) when penetration is attempted. Sexual intercourse can be painful, as can inserting tampons or gynecological examinations. You may have a sore vagina after sex too. The reason for the name 'provoked vestibulodynia' is that the pain signals are set off when pressure is felt in the vestibule. Usually pain is felt on entry, but subsides when there is no movement. As soon as movement resumes, more pain is felt. 
Vulvar vestibulitis is a chronic pain syndrome, meaning that the pain usually doesn't go away of its own accord and can continue to be a problem for many years if treatment is not undertaken. Women with vulvar vestibulitis commonly have other types of chronic pain too, such as pain in the jaw or IBS. If you have either of these as well as pain in your vagina, it may be indicative of vulvar vestibulitis.
Why is my vagina sore after sex?
If you have vulvar vestibulitis you are likely to feel burning sensations in the area of the vaginal opening after intercourse. You may also experience the same kind of pain when urinating. It is thought that candida infections (thrush) can worsen the issue, or make it more likely to develop in the first place.
It is generally accepted that the most likely cause of vulvar vestibulitis is the brain overreacting to signals from the nerves in the vaginal opening and interpreting them as pain. The result is what would usually be only mild sensations being translated as pain. In some cases the pelvic floor muscles can be excessively tight, which results in worse pain.
How do I know if I have vulvar vestibulitis?
Usually if you are experiencing pain in the vagina after sex, your Doctor will conduct some cotton swab tests to understand the location of the pain, and to assess the level of pain you feel when pressure is applied. They will lightly touch areas of the vagina with the swab and ask you questions about the sensations you feel.
From here it is quite easy to diagnose vulvar vestibulitis. Your Doctor may want to test for candida infection to see if this is making the problem worse.
What can I do about vulvar vestibulitis?
There are lots of options for treating vulvar vestibulitis. Here are some of the most common:
Stress management techniques
Psychological therapies (counseling, mindfulness based cognitive therapy)
Pelvic floor physical therapy (in the case of tight pelvic floor muscles)
Pelvic floor stretches and yoga
Anti-inflammatory or anesthetic creams
Avoiding irritants (changing soaps and moisturizers to chemical free, gentle varieties)
Treatment for yeast infections (e.g. boric acid capsules, thrush creams)
Vaginal dilators (to help you become accustomed to penetration on your terms)
In worse case scenarios your Doctor may recommend surgery to the vaginal opening. This is only recommended when all other treatments have failed. It involves removing the part of the vaginal opening including the nerve endings that are sending pain signals to the brain. However, sometimes the nerves can regrow and the problem can come back, so it is not always successful and should be treated as a last resort.
If your vagina is sore after sex, it is a good idea to speak to your Doctor about testing for vulvar vestibulitis. Since the problem isn't likely to go away on its own, you can try out some different treatments to find out what works best for you. With patience and perseverance you are likely to regain a normal sex life eventually.
VuVa Helpful Links:
7 Reasons for a Tight Vagina and How to Loosen 
How to Relax Vaginal Muscles, Vaginismus & Sex 
Vaginal Stretching - Keeping in Shape with Dilators 
Do Dilators Really Work? Yes, and They can Improve Your Sex Life!
Shop for VuVa Vaginal Dilators