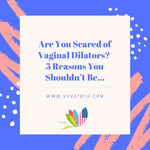 | Tara Langdale
Are You Scared of Vaginal Dilators? 5 Reasons You Shouldn't Be…
Women with pain conditions and other sexual health conditions could find the prospect of using vaginal dilators a little daunting.
If you are afraid of penetration of any kind, it's little wonder that the thought of inserting a foreign object leaves you a little anxious. However, we are here to reassure you that you don't need to be scared of vaginal dilators.
Vaginal dilator therapy is recommended for conditions such as vaginismus, vulvodynia, vaginal atrophy, vulvar Vestibulitis, dyspareunia (painful sex), vaginal stenosis, and post-radiation and cancer treatments. So if you have any such condition, vaginal dilators could be the answer.
Dilators have been carefully designed with your health, safety and emotional security in mind. VuvaTech has even taken dilator design to the next level with patented formations that do everything possible to relieve you of pain and anxiety.
In case you are feeling worried about inserting a vaginal dilator, we have put together a list of reasons you need not be afraid…
5 reasons not to be scared of vaginal dilators
Vaginal dilators come in different sizes
When it comes to vaginal dilators, we understand that it's not a 'one-size-fits-all' thing. That's why we offer dilators in five different sizes. This means that you can start out with the smallest dilator until you become accustomed to how it feels, before moving up to the next size when the time feels right. The smallest dilator is only 3.25" wide and 1.57" in circumference, so it shouldn't easy enough to insert – especially once you get used to using it.
You can even purchase a set of two or five dilators. One of our sets comes with free lubricant to make insertion easier, and other dilators come with free lubricant pouches. You can either take your time and buy new dilators when the time is right, or have the full kit at the ready. One way or another you can simply move up through the sizes until you've achieved your goal.
Vaginal dilators have been designed with your comfort in mind
We know very well that different women have different requirements because of the various gynecological health problems they are dealing with. That's why we have designed a range of dilators in different materials and with different functions so that you can choose what works best for you.
Our dilators are ergonomically designed so that the tip is perfectly sloped for ease of entry; you will find them very easy to control, so you are unlikely to cause yourself pain. Our silicone dilators are made from medical grade silicone, making them flexible and silky smooth to the touch.
Vaginal dilators work to desensitize you
When we speak of desensitization we don't mean that you'll lose the kind of feelings you want to have down there. We are referring to the kind of desensitization that happens through conditioning oneself to become accustomed to something previously scary. The more often you insert a vaginal dilator successfully, the easier it will become. Then when the times comes that you have a gynecological exam or sexual intercourse, you will be more used to the prospect (and feeling) of penetration. When you are no longer scared of vaginal dilators, the chances are you will be much more ready for other kinds of penetration.
Vaginal dilators can relieve pain and discomfort
VuVa Vaginal Dilators were originally invented and patented by a pelvic pain patient. She knows all too well how challenging this kind of pain can be, and wanted to do something to help other women who needed a solution for painful intercourse (dyspareunia).
These magnetic dilators contain more than 60 strategically placed Neodymium magnets, which are excellent for increasing blood flow and soothing nerves. These carefully created magnetic dilators are clinically proven to ease pain in women with chronic pain conditions like vulvodynia, so you can rest assured that they are going to bring you relief rather than cause harm. In fact, VuVatech has helped more than 30,000 women worldwide to overcome their pelvic pain conditions – so we know for sure that they work!
Vaginal dilators can be used at your own pace
One of the best things about vaginal dilators is that they can be used in the comfort and privacy of your own home. Sure, it might feel a little different if a therapist is using a dilator at your appointment, because you may not feel quite so in control. Yet when you using dilators at home, you have complete control over insertion, as well as the size you're using. You can always stop if it gets too uncomfortable and try again when you feel more ready.
You will soon see that you do not need to be scared of vaginal dilators because they have been designed with your recovery in mind and you have total control over the size you use and the pace at which you use them. Women all around the world have had much success with dilators, and the results will surely speak for themselves.
Thanks for reading and feel free to drop us a line if there is any dilator advice you think we can give you… we'll always be happy to assist.
Do you need to order vaginal dilators so you can start your pelvic floor therapy process? Made in the USA. Visit www.vuvatech.com 
VuVa Helpful Links:
How do Neodymium Vaginal Dilators work? 
7 Reasons for a Tight Vagina and How to Loosen 
How to Relax Vaginal Muscles, Vaginismus & Sex 
Vaginal Stretching - Keeping in Shape with Dilators 
Do Dilators Really Work? Yes, and They can Improve Your Sex Life!
Shop for VuVa Vaginal Dilators
Tara Langdale Schmidt is the inventor of the VuVa Dilator Company. She has pelvic floor dysfunction herself and wanted to create a dilator set that is made in America that women can trust. VuVatech has been in business since 2014 and has helped over 50,000 women all over the globe. She patented the Neodymium Vaginal Dilator, that is clinically proven to help with blood flow and nerve pain.