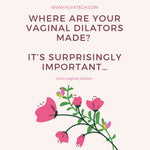 | Caroline Knight
Where Are Your Vaginal Dilators Made? It's Surprisingly Important…
Not everyone checks on the origins of the products they purchase as standard, but there are times when this is necessary. In particular, when sexual health is at stake. Did you ever wonder where vaginal dilators for physical therapy are made? You could be forgiven for overlooking this detail, but it's actually a more important one than it may seem. Since you're going to be coming into close personal contact with your dilator, you should be careful to check that it is made from the highest quality materials, under the correct conditions.
We'll start by pointing out that not all vaginal dilators are made here in the US. Surprisingly few are, in fact. What if we told you that 95% of all dilator companies have their products made overseas? The problem with this is that it's very difficult for you to confirm what type of material they are using. For instance, if the dilator company is outsourcing to China, it's safe to say that they are definitely are not paying the premium prices necessary to obtain the highest quality materials.
Since your health is of primary importance to us, we decided to give you the lowdown on where our vaginal dilators are made, what they are made from, and why this is important…
Where are VuvaTech vaginal dilators made?
First and foremost, women's health and safety is the number one priority for VuVatech. That's why we like to keep a close eye on the manufacturing of our products, and we are keen to enable efficient communication with our suppliers. For both of these reasons, our magnetic vaginal dilators are made right here in the United States.
Our magnetic dilators (which are our bestsellers for good reason!) are made right here at a high-end facility in Sarasota, Florida. We use medical grade plastic to ensure that our dilators are hypoallergenic and totally safe for you to use. Our silicone dilators are made in North America, for the same reasons. Women find that our Neodymium Vaginal Dilator therapy is more effective than regular dilators for their medical conditions such as vaginal atrophy, vaginismus, vulvodynia and other pelvic floor dysfunction conditions. It can take your fear of penetration away to clear the path to resume normal sexual activity.
We chose to have our products made and shipped right from within our own community for another reason too: to create and secure local jobs for people. So with a locally manufactured product line we not only help our own people; we can also oversee the production and quality of everything easily.
What are our vaginal dilators made from?
VuVa silicone dilators are made from Medical Grade 6 Silicone, and they are free from latex. Our magnetic dilators are made from FDA approved, medical device grade polycarbonate. This means they are latex-free, waterproof and most importantly, non-toxic. This range of dilators contains neodymium magnets. Although these aren't cheap, they are a major component of our dilators and these magnets set them apart from the rest due to their amazing health benefits.
Neodymium magnets are rare-earth magnets frequently used in medical applications. The consist of an alloy of neodymium, iron and boron to form the Nd2Fe14B tetragonal crystalline structure that makes the fundamental base of the magnet. 
The magnets are all put strategically in place by hand according to a patented pattern that ensures maximum efficacy. Each of our magnetic dilators contains more than sixty neodymium magnets, which will retain their strength for at least ten years. 
What else is worth knowing about our vaginal dilators?
You may find it helpful to know that we ran a small double blind placebo clinical trial, which was conducted at Sarasota Memorial Hospital IRB. In this trial our magnetic vaginal dilators were clinically proven to be more effective than non-magnetic dilators. In fact, 80% of our study participants said they experienced a decrease in their overall pain levels after using VuVa™ magnetic vaginal dilators.
We hope that this article has given you some insight into the importance of where vaginal dilators are made, as well as the faith that at VuVatech we are doing everything we can to bring you the safest and most effective products on the market. If you have any questions about our product range, please drop us a line and we'll be happy to help! 
VuVa Helpful Links:
7 Reasons for a Tight Vagina and How to Loosen 
How to Relax Vaginal Muscles, Vaginismus & Sex 
Vaginal Stretching - Keeping in Shape with Dilators 
Do Dilators Really Work? Yes, and They can Improve Your Sex Life!
Shop for VuVa Vaginal Dilators