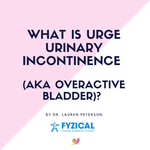 | Lauren Peterson
What is Urge Urinary Incontinence (AKA Overactive Bladder)? by Dr. Lauren Peterson
Urge urinary incontinence or simply "urge incontinence" is that horrible, sudden feeling you get of having to go to the bathroom and having to go right now. Following the feeling of urgency, the bladder leaks are the component that we formally call urge urinary incontinence.
If you are just urinating too frequently, this is the component we call overactive bladder syndrome (OAB). Because the outcome of needing to go and ultimately bladder leaks are so similar, I typically lump overactive
bladder syndrome in with what qualifies as urge urinary incontinence.  
Normal frequency of urination is every two to three hours. So, if you are going more frequently than that, for example, every hour or every 30 minutes, that is not normal.
Your bladder probably isn't as strong as it needs to be and that is a symptom of overactive bladder. When you have urine leaks because you have the urgency and cannot make it to the bathroom that is what urge urinary incontinence is. Both OAB and urge urinary incontinence can be treated with Pelvic
Floor Physical Therapy.
If you have any other questions about urge urinary incontinence, don't
hesitate to ask (OKC@FYZICAL.com). I am Dr. Lauren Peterson Clinical Director and Doctor of Physical Therapy here at FYZICAL Therapy and Balance Centers of Oklahoma City. 
VuVa Helpful Links:
7 Reasons for a Tight Vagina and How to Loosen 
How to Relax Vaginal Muscles, Vaginismus & Sex 
Vaginal Stretching - Keeping in Shape with Dilators 
Do Dilators Really Work? Yes, and They can Improve Your Sex Life!