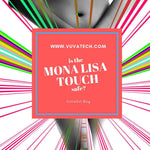 | Caroline Knight
What is the MonaLisa Touch Procedure and is it Safe?
Have you heard about the MonaLisa Touch procedure? This treatment, marketed as a 'vaginal rejuvenation' procedure, is aimed at women who are experiencing menopausal symptoms that may be negatively impacting their vaginal function. It aims to correct or prevent vaginal atrophy using a fractional CO2 laser that targets the tissue of the vaginal mucosa. In younger women, it is said to be able to tighten stretched vaginal tissue (vaginal laxity) caused by childbirth.
The MonaLisa Touch is labeled a painless, minimally invasive procedure that is over in a matter of minutes, and with no side effects. The laser stimulates collagen production in the tissues of the vagina mucosa in order to improve the balance of the mucous membrane and restore proper functionality of the vagina.
Why is the MonaLisa touch used for vaginal atrophy?
When women get older (and particularly after the menopause) their estrogen levels drop. This can lead to vaginal atrophy – in other words, the decline of your vaginal tissues, and its functionality. The tissues can start to thin and are likely to become dry. As a result, they may be prone to inflammation, as well as itching, burning and possibly bleeding.
Post-menopausal women may also experience any of the following symptoms:
Urinary tract infections (sometimes chronic)
Stress urinary incontinence (leaking after sneezing, coughing or laughing)
The laser stimulates the formation of new blood vessels in the vagina, which increases collagen and elastin production (the two proteins responsible for strength and elasticity in the vaginal tissues); by reactivating the collagen production, the vaginal mucosa is able to return to its previous state. The MonaLisa Touch procedure also aims to restore estrogen levels within the vaginal tissues. These processes are what prevent or improve the above post-menopausal or post-childbirth symptoms.
What happens after the MonaLisa Touch procedure?
Tissue regeneration begins immediately and lasts for several weeks. Positive results are reported to be common soon after the initial treatment, including hydrated mucosa tissue, thicker epithelium and a tightened, toned vagina with more elasticity in the skin. The procedure also aims to restore the pH of the vagina, thus minimizing the risk of infections.
Is laser vaginal rejuvenation really safe?
Although apparently quick and painless at the time of the procedure, the FDA has not approved the MonaLisa Touch – in fact, it has warned several companies against marketing this laser treatment as 'vaginal rejuvenation', labeling it deceptive and dangerous. It seems that the laser treatment was only permitted for use with conditions such as cancer, warts and surgical procedures (including hysterectomies). However, some companies were going ahead and using radio frequency devices for vaginal rejuvenation despite approval only being given for dermatological use (specifically on wrinkles and eyelids).
The FDA does not consider destroying or reshaping the vaginal tissues a safe method of rejuvenation. It deems the treatment as incredibly risky, going by what FDA commissioner Scott Gottlieb said: "These products have serious risks and don't have adequate evidence to support their use for these purposes. We are deeply concerned women are being harmed."
The FDA says that so far, it has received 14 reports of adverse reactions to laser vaginal rejuvenation procedures, including burns, burning sensations, scarring and significant post-treatment pain. Since it cannot determine exactly how risky the MonaLisa Touch procedure is, it has not been approved.
If you're considering this treatment as a solution for vaginal atrophy, it may be worth thinking again. There are other vaginal atrophy solutions that won't put you at risk – vaginal dilators and pelvic floor physical therapy are two options you may want to try before doing anything drastic and potentially irreversible.