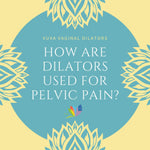 | Tara Langdale
How are Dilators Used For Pelvic Pain?
Your healthcare provider or physical therapist may have recommended dilators for

 

pelvic floor dysfunction. This may have been the first time you've heard of a vaginal dilator or pelvic wand. Not knowing what they are or how to use dilators for pelvic pain is normal. 
After all, talking about sexual pain or sexual dysfunction is difficult and not exactly a dinner time conversation. But in female sexual medicine dilators are commonly prescribed to help heal many pelvic pain conditions such as vaginal stenosis, pudendal neuralgia, or vaginal agenesis. In this article, we'll help you understand the best practices for using dilators for pelvic pain. There are silicone vaginal dilators and plastic vaginal dilators.
Getting Started With Vaginal Dilator Therapy
Vaginal dilators come in a variety of sizes and textures, making them ideal for helping a wide variety of medical conditions affecting the pelvic floor and vaginal tissues. The simplicity of the device does not truly reflect the positive health outcomes many women report and backed by scientific research. 
While some pelvic pain can be diagnosed from a specific cause, such as pelvic floor radiation or a pelvic organ prolapse. Other times the pain occurs during pelvic exams, during sexual intercourse, or from vaginal atrophy due to menopause. 
While penetration of any kind may trigger the pain, the discomfort may become chronic and without known triggers. Chronic pelvic pain with no known cause is called vulvodynia. Regardless of the painful intercourse or penetration, getting started with vaginal dilator therapy is easy and the treatment simple to follow. 
How to insert the dilator?

The best part about vaginal dilator therapy is that for the most part occurs in the privacy of your own home. Before treatment find a quiet place where you won't be interrupted. Prop your head and neck up with soft pillows and open your legs wide. 
With gentle pressure slowly insert the dilator into the vaginal canal. Vaginal penetration may be extremely uncomfortable at first, so it's important only to insert the dilator as far as the pain will allow. Your dilator set will come with a variety of sizes. In the beginning, choose the smallest size to make sure that you're not overwhelmed by the treatment. In essence, dilator therapy is helping you to relax your pelvic floor muscles. The lengthening and strengthening comes from letting go and allowing the dilator to do its job. 


How long to keep the dilator inserted?
This is a great question and one asked by women to health physical therapists a lot. We recommend  that you aim for 20-30 minutes each session. It may require deep breathing and holding the dilator inside with your hand. 
At first, your pelvic floor muscles may try to push the dilator out, but as your treatment progresses, you'll be able to hold the dilator inside for longer periods without resistance. Dilators can cause pain when inserted but the pain is really helping vaginal tissues and muscles to relax. The pain should never be too much or beyond a four on a 1-10 pain scale. 


How many times per week to practice dilator therapy?
Typically, the treatment for painful intercourse or other vulva pain conditions should happen 1-2 times per day. Relaxing the pelvic floor takes consistent treatment over a few weeks to months. 
Even after you've stopped experiencing pain after sexual activity, you may need ongoing treatments to ensure that your vagina remains strong and elastic. It's recommended to set a schedule that's right for you. 
Should I use a lubricant?
Yes, a vaginal moisturizer may help ease the pelvic pain during dilation. Generously cover your vaginal dilator and vagina opening with a water-based lubricant.  
Some vaginal dilator sets come with complimentary lubricant to use during treatment. You may also add more lubricant if needed during the dilation session. 
How to increase the dilator size?

You may increase the size from small to a medium dilator and so on, as you feel comfortable doing so during your treatment. It may take a few sessions before you feel ready to insert a larger size, but you may feel ready during the same session. Dilator sizes start at as small as a pinky finger all the way up to 1.5 inches in width. Increasing the size is necessary to lengthen and strengthen tender vaginal tissues and muscles but remember only increase without searing pain. How do you know what size dilator you need? Click here.
Types of Vaginal Dilators
Dilators come in many different sizes and types. The three most common are the following:
Magnetic vaginal dilators: By far the best vaginal dilator set you can buy to improve pelvic dysfunction. The set comes with over 60 neodymium magnets that pull fresh oxygenated blood while healing vaginal scar tissue. Women report less pain and discomfort after treatment with these deluxe dilators, compared to other types. While the cost is higher for magnetic dilators, the results are superior.


Non magnetic vaginal dilators: These dilators are made with medical grade plastic and come with a soft yet firm feel that slips in easily. The firm plastic makes it easier to target pain trigger points with it's smooth design. 
Silicone vaginal dilators: Perhaps, the softest vaginal wands you can invest in. Silicone dilators are firm yet flexible and offer an outstanding choice for those why latex allergy concerns. The hypoallergenic material is at the highest grade you can find. 
What should I do after the pelvic floor physical therapy?
After completing your pelvic floor rehabilitation, you should wash your vaginal dilator and hands with warm water. Place your dilator on a towel to air dry. Once dry store in the provided cloth pouch for later use. 

Using dilators for pelvic pain is easy and simple to perform. It's only a matter of time before your pelvic health and self life improves. The reason vaginal dilators are the number one choice to pelvic floor dysfunction is that they work. Before starting treatment speak to your healthcare provider about the possibilities of vaginal dilators. 

Do you need to order vaginal dilators so you can start your pelvic floor therapy process? Made in the USA. Visit www.vuvatech.com 
VuVa Dilator Company Helpful Links:
How do Neodymium Vaginal Dilators work? 
7 Reasons for a Tight Vagina and How to Loosen 
How to Relax Vaginal Muscles, Vaginismus & Sex 
Vaginal Stretching - Keeping in Shape with Dilators 
Do Dilators Really Work? Yes, and They can Improve Your Sex Life!
Shop for VuVa Vaginal Dilators
Tara Langdale Schmidt is the inventor of the VuVa Dilator Company. She has pelvic floor dysfunction herself and wanted to create a dilator set that is made in America that women can trust. VuVatech has been in business since 2014 and has helped over 50,000 women all over the globe. She patented the Neodymium Vaginal Dilator, that is clinically proven to help with blood flow and nerve pain.
Podcast Episode 22: Tara Langdale-Schmidt
What's on Your Vagenda?
Click here