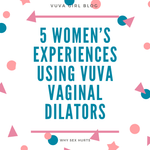 | Caroline Knight
5 Women's Experiences Using Vuva Vaginal Dilators
Women use vaginal dilators for so many reasons, and VuvaTech have been supplying women with these life saving products for a long time now. We understand how apprehensive ladies can be before using a vaginal dilator for the first time, so we do everything we can to educate on the everything from the conditions dilators are used for to tips and advice for usage.
We realize that it helps to get the lowdown on other women's experiences, and fortunately we have many happy customers that let us know how they are getting on with our products. We decided to put together a collection of experiences with Vuva vaginal dilators so that you can get an idea what to expect from your own. 
 1. Vuva vaginal dilators for vaginismus
JKS (June 2018) told us about how our vaginal dilators had eased her vaginismus after many years of suffering – and without a proper diagnosis. Since her teen years, she had been unable to even insert a tampon, and said that losing her virginity was traumatic. Annual exams would be a nightmare for her, and sexual intercourse was a huge challenge.
Once she discovered that she had the condition vaginismus, she came to Vuvatech for a solution. Since that time, she has told us that she and her husband are incredibly grateful for receiving the assistance they've been so desperate for… now they're having great success with Vuva vaginal dilators.
2. Magnetic dilators for lichen schlerosis
An anonymous customer who is 60 years old wrote to us in March 2018, telling us that it was a long time since she had been sexually active. She then met her husband-to-be but disappointingly, the pair had difficulties consummating their marriage. Our customer had been diagnosed with the painful condition lichen sclerosus, so it wasn't an age-related problem.
Vuva magnetic dilators (in combination with a topical medical prescription) came to the rescue, and she can now use the largest dilator in the collection with ease. She told us that our dilators had made a massive difference to her life, and is even recommending them to friends in need.
 3. Wedding night bliss thanks to vaginal dilators
In May 2018, a customer of ours called Angela wrote to let us know how grateful she is that our dilators helped turn her wedding night into something unimaginably special. As a teenager she had struggled to use tampons, and gynecological exams were challenging.
Later in life, her GYN recommended she try Vuva vaginal dilators in time for her wedding night. After using sizes 1 and 2 for three months before her wedding, her wedding night was better than she could ever have expected.
4. Painful sex is a thing of the past thanks to dilators
In April 2019, another customer, S.A, told us how our dilators had changed her life. At the young age of 18, she was unable to insert even a finger into her vagina without pain. After using Vuva dilators for some time, her sex life with her boyfriend has been transformed. She tells us that she can now comfortably use all 5 dilators in the set, and sex is not only possible but also enjoyable for her.
5. Fear of penetration is overcome with Vuva dilators
JP is a 24-year-old customer who wrote to us in June 2019 to thank us for helping her overcome a fear of penetration via our magnetic dilators. After 6 months of therapy to deal with this issue, she still had big fears and couldn't bring herself to insert anything into her vagina.
After a midwife suggested she use vaginal dilators, she tried ours. Once she got over the initial fear of using one, she found that she could easily insert them – and more easily than a finger. She thinks our products are amazing and is very grateful to Vuvatech for offering the solution she had been looking for.
Feel free to read more experiences with vaginal dilators and get in touch with us if you have any questions about the right dilator for you.