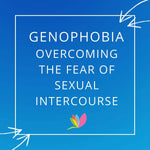 | Tara Langdale
Genophobia - Overcoming the Fear of Sexual Intercourse
What is a Phobia?
According to Harvard Health, a phobia is an intense fear that's excessive without rationality. It's a type of anxiety disorder directed at an object, person, situation, or activity. (1) In the case of genophobia, it's the intense fear of sexual intimacy. It's sometimes called erotophobia. Even the thought of engaging in sexual relations with someone brings out extreme anxiety, overwhelming fear, and intense shame.
When you have genophobia, you may also be dealing with other types of sexual phobias related to intimacy.


coitophobia:

overwhelming fear of sex. 

gymnophobia

: fear of nudity.

haphephobia

: fear of touching.

coitophobia

: fear of penetration

heterophobia:

fear of the opposite gender

tocophobia:

fear of becoming pregnant or giving birth
People with genophobia look for ways to overcome the fear of sexual intercourse, and the good news is that there are solutions.
Treatment of genophobia
The specific treatment of genophobia depends on whether the fear connects to a physical condition, such as vaginismus. Or the anxiety comes from a psychological issue.
Vaginal dilators
Genophobic people who experience intense pain from sexual penetration, inserting a tampon, or undergoing a gynecological exam, may benefit from using vaginal dilators.
Dilator therapy has helped thousands of women overcome genophobia. Vaginal dilators are safe and effective in assisting women in stretching and lengthening vaginal tissue slowly. In a clinical trial, 80% of participants reported reduced pain after using VuVa™ magnetic vaginal dilators. (2)
The Memorial Sloan Kettering Cancer Center recommends vaginal dilators to ease painful discomfort from vaginal penetration. (3) When a woman has ongoing pain associated with sexual intercourse, it can lead to an intense fear of sex or genophobia.
Psychotherapy
Meeting with a licensed therapist may help ease the symptoms of genophobia. Once you've identified the physical concern, you can address the emotional aspect. While many types of psychotherapy are available, one standard method is cognitive behavior therapy (CBT).
CBT involves helping the patient view the condition differently. As your therapist encourages alternative methods of thinking about the activity or phobia, you can examine physical responses to the cause of the problem. (4) You'll learn about what triggers the reaction and how to overcome your response. Sometimes this may require you to expose yourself to sexual intimacy, to overcome the phobia.
Exposure Therapy
The American Psychological Association defines exposure therapy as a type of psychotherapy meant to engage the patient in the activity or trigger that causes the phobia or stress. Your goal is to confront your fears in a safe environment, in the hopes of overcoming them. (5) 

For example, if you have a fear of snakes, you may be asked to hold a snake. Or, if you're experiencing post-traumatic stress due to sexual abuse, you may be asked to imagine the traumatic event and reimagine it. Exposure therapy can help overcome the following conditions, including:
Phobias (e.g. genophobia)

Post-traumatic stress

Generalized anxiety disorders

Obsessive-compulsive disorders

Social anxiety disorders

If you're experiencing genophobia, speak to your healthcare professional about vaginal dilator therapy and psychotherapy to determine which treatment is right for you.
Symptoms of genophobia
Every person experiences different genophobia symptoms. Genophobia has different triggers and has a profound effect on the person, making daily life unbearable at times. Symptoms may encompass one or more of the following:
The thought of sexual intimacy may make you feel nauseous and overwhelmed when confronted with the possibility of intercourse. You have an immediate fear and panic that causes problems with sexual functioning.





Logically you understand the fear is irrational, but sexual intimacy causes panic attacks, low self-esteem, and performance anxiety.





The symptoms become worse the longer you're exposed to sexual triggers, and the only way to stop the fear is to stop the activity.





You may begin to avoid the situation causing the fearful response.





You may have trouble breathing, feel dizzy, become sweaty, or endure heart palpitations.
Causes of genophobia
Becoming fearful of sexual intercourse has different causes and triggers. In some situations, the exact cause may be hard to determine.
Fearful of sexual performance:

For some, being concerned about their performance in bed can cause erectile dysfunction or feelings of inadequacies when intimate.




Body dysmorphic disorder:

It's a mental health condition when a person can't stop thinking about perceived flaws in their appearance. You become ashamed and fearful of being seen in public, and this causes social anxiety and genophobia. (6)




Vaginismus:

It's the condition when pain and uncontrollable muscle spasms occur during sexual intercourse, tampon insertion, or a pelvic exam. The state may be primary or secondary.





Primary is when the woman has never been able to have sex due to the pain and muscle spasms. Secondary is when pain happens after a woman has had sexual intercourse and then is unable to engage in sexual relations. Women suffering with vaginismus often find relief with vaginal dilators or sometimes called vaginal trainers to help ease vaginal tightening.




Sexual abuse:

When a man or woman experiences a childhood trauma such as child abuse by a primary or secondary caretaker, it may result in post-traumatic stress disorder (PTSD). The person may avoid or become fearful of sex and continue to relive the abuse.




Experiencing sexual assault:

When you've experienced sexual assault or rape, you may become fearful of intimacy or sexual intercourse. The event is traumatic and causes you to shut down and avoid any sexual intimacy.
Sometimes it's hard to know the difference between healthy fear and a phobia. At times, you may become confused as to what's causing the genophobia. The best solution is to speak to a sex therapist or medical professional to help you overcome the fear of sexual intercourse. With proper treatment, such as vaginal dilators or psychotherapy, you can have a healthy sex life. The first step is always the most difficult, but living the life you deserve is possible.
https://www.health.harvard.edu/a_to_z/phobia-a-to-z

https://www.vuvatech.com/pages/clinical-trials

https://www.mskcc.org/blog/strategies-women-cope-sexual-and-vaginal-health-concerns-related

https://www.mayoclinic.org/tests-procedures/cognitive-behavioral-therapy/about/pac-20384610

https://www.apa.org/ptsd-guideline/patients-and-families/exposure-therapy

https://www.mayoclinic.org/diseases-conditions/body-dysmorphic-disorder/symptoms-causes/syc-20353938
Other VuVa Helpful Links:
7 Reasons for a Tight Vagina and How to Loosen 
How to Relax Vaginal Muscles, Vaginismus & Sex 
Vaginal Stretching - Keeping in Shape with Dilators 
Do Dilators Really Work? Yes, and They can Improve Your Sex Life!