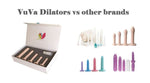 | Tara Langdale
Magnetic Vaginal Dilators vs Nonmagnetic Dilators – Why are the magnets important?
Vaginal Dilators  have been utilized in the plan of care for patients that suffer from pelvic pain conditions for decades.
Unfortunately, this safe treatment with usually no side effects isn't the first option presented to women who suffer from painful sex. 
Pelvic Floor Physical Therapists (find one here: Vuvatech.com/pages/pelvic-pt-locator) know the importance of using dilators for their pelvic floor patients.
VuVa Dilators are the only dilators containing a patented Neodymium Magnet sleeve.
So whats the big difference? What are Neodymium magnets? 
While most dilators are just pieces of plastic, VuVa Dilators contain over 60 magnets in a full set of five dilators. Neodymium magnets are a member of the Rare Earth magnet family and are the most powerful permanent magnets in the world. They are also referred to as NdFeB magnets, or NIB, because they are composed mainly of Neodymium (Nd), Iron (Fe) and Boron (B).
Magnetic Therapy is based on the premise that all living organisms exist in a magnetic field, including the human body. The human body generates its own magnetic field. Therefore, the body can heal itself when electromagnetic energy is in balance.
What happens when you use a VuVa Magnetic Vaginal Dilator?
Soft tissue lengthens, relaxing muscles and ligaments. As the tissue relaxes, the Neodymium magnets increase blood flow to the painful area calming nerves. VuVa™ Magnetic Vaginal Dilators are the only patented dilators available with Neodymium magnets.
The "North Pole" of a Neodymium magnet is often referred to by medical researchers as the "healing side" of the magnet. The VuVa™ Vaginal Dilator set contains over sixty strategically positioned Neodymium magnets that allow this field of soothing energy to flow into the body.
Iron is a component of our blood content and every ion – or atom – contained in our cells carries oxygen and produces an electrical impulse. These two elements make up our bodies own electrical magnetic field.
This means when the negative north side of a magnet is placed next to a painful area, it draws fresh oxygenated blood to the nerves and surrounding muscles. This, in contrast, is a positive energy field. The positive energy field creates two results: as magnets are alkaline, it counteracts any acidity in the body caused by disease and fresh blood helps to remove any acidity from the body which, in turn, accelerates healing while reducing pain.
Clinical Trials
VuVa Vaginal Dilators are the only dilators on the market with a clinical trial conducted by Dr. Micheal Swor M.D, a Pelvic Pain Specialist Gynecologist. Read more about  VuVa clinical trials here.
Dilator therapy helps improve pelvic health and female sexuality. They are used to help a wide variety of female health concerns. Speak to your doctor today about how dilator therapy can help you.
Do you need to order vaginal dilators so you can start your pelvic floor therapy process? Made in the USA. Visit www.vuvatech.com 
Do you need dilators without magnets? Here is our set of Five Smooth Dilators and Here is our Set of Seven Smooth Dilators 
VuVa Dilator Company Helpful Links:
How do Neodymium Vaginal Dilators work? 
7 Reasons for a Tight Vagina and How to Loosen 
How to Relax Vaginal Muscles, Vaginismus & Sex 
Vaginal Stretching - Keeping in Shape with Dilators 
Do Dilators Really Work? Yes, and They can Improve Your Sex Life!
Shop for VuVa Vaginal Dilators
Tara Langdale Schmidt is the inventor of the VuVa Dilator Company. She has pelvic floor dysfunction herself and wanted to create a dilator set that is made in America that women can trust. VuVatech has been in business since 2014 and has helped over 50,000 women all over the globe. She patented the Neodymium Vaginal Dilator, that is clinically proven to help with blood flow and nerve pain.
Podcast Episode 22: Tara Langdale-Schmidt
What's on Your Vagenda?
Click here